Cristiano Ronaldo: Juventus' new signing is a coup on and off the pitch
By Mina Rzouki
5 live Euro Leagues Football Show host
Last updated on .From the section European Football106
When Italy failed to qualify for the 2018 World Cup in Russia, it seemingly confirmed the calcio's fall.
Left behind by the riches of the English Premier League and the talent within Spain's La Liga, Serie A has retained its reputation for breeding talent to sell on but is no longer seen as a place that attracts the biggest and brightest stars in our footballing galaxy.
However, as the world has watched 32 countries battle down to the final four in Russia, Italy was not going to let itself be forgotten, instead the country would steal the headlines. Serie A was preparing a comeback.
Cue Cristiano Ronaldo and ensuing delirium.
Why Italy?
When the rumours of a possible deal were first leaked, few believed it to be true. Ronaldo was simply doing his usual summer dance with Real Madrid in a bid to receive more love, support and money from his employers.
Additionally, if he were ever to leave, surely it wouldn't be to Italy?
Yet remarkably, Juventus - renowned for their ability to spot a bargain - have decided to go off script and make the most expensive Serie A signing in history.
Agent Jorge Mendes first implied a deal was possible when he met with the club over their £35.5m signing of his client Joao Cancelo from Valencia in June.
Moving heaven and earth financially, Juventus found a way to stump up over 105m euros (£93.01m) to Real Madrid to take the soon to be 34-year-old legend to Turin. Then, having agreed to pay the forward over 30m euros (£26.57m) a year in wages after tax (nearly 60m euros before deductions), the deal was struck.
The Old Lady has got her man and, for the first time ever, the support and respect of her domestic rivals.
The arrival of a reigning Ballon d'Or winner to Serie A is coup not only for Juventus but for calcio as a whole, helping to somewhat re-establish the reputation of a fallen league.
But why Italy?
Ronaldo's is a career that was always supposed to start in Italy but it will now likely end in the peninsula.
In 2003 the disgraced (now former) sporting director of Juventus, Luciano Moggi, had seemingly struck a deal with Sporting Lisbon for the purchase of their talented youngster.
As part of the deal, Juve's Marcelo Salas was to head the other way but, after visiting Lisbon, the Chilean refused the transfer, forcing Juventus to give up on the rising Portuguese star. Ronaldo went on to join Manchester United and the rest, as they say, is history.
Yet Juventus has remained a special club for Ronaldo and he admitted as such earlier this year, saying: "I've always liked Juventus, since I was a child, and I loved to watch them play."
Barcelona's Lionel Messi may well stay a one-club man throughout his career. However, Ronaldo believes that nothing would seal a legacy quite like dominating three different leagues and winning all trophies possible along the way.
If there's one thing that has eluded Juventus, it is consistent Champions League success. Having reached the final nine times, they have only brought the trophy home twice.
And if there's anyone who knows how to win a final, it's Ronaldo.
Leading Real Madrid to three consecutive Champions League wins, he knows that if he can finally help Juve to succeed following five failed attempts, he will be hailed as a footballing god, sealing his legacy and reputation as the difference maker.
'More than just money and trophies'
It's also about more than just money and trophies. In Serie A, age doesn't matter.
Francesco Totti finally retired at the age of 40, Juve centre-back Andrea Barzagli just extended his contract with the club despite being 37 years old, while Gianluigi Buffon is still going strong at 40, having confirmed his move to PSG.
As Patrice Evra commented: "I haven't spoken to Cristiano about this, but my advice is, if he wants to play to 2050, he has to go to Juve.
"I thank Juve, because if after Manchester I continued to win and to run, it was thanks to them. Juventus may well help Ronaldo ensure his participation in the next World Cup."
Dubbed the deal of the century by Italian newspapers, some see it as an over indulgence.
Marca journalist Juan Ignacio García-Ochoa has questioned Juve's decision to move for a player in his twilight years who missed seven league matches and six Copa del Rey games in order to manage his form.
If we are to consider his fee and his salary, Ronaldo will cost the club approximately 96m euros (£85m) a year, which is close to a quarter of Juve's annual revenue.
Fiat are thought to be helping finance the deal and the star is set to become a global representative of Ferrari.
This will not only generate the funds required to pay his salary but unite the various components of the Agnelli family's business empire.
Is it money well spent?
What many haven't noted is that while Ronaldo will certainly make a sporting impact he will make a financial one too, even if he will cost 'too much' initially.
Juventus is one of the biggest clubs in the world, home to many champions and famed for reaching European finals, yet their revenue does not compare to the big hitters.
Their brand is small and, up until 2015, their commercial revenue was lower than that of Germany's Schalke - a team that has moved in and out of the Bundesliga's top four.
Despite working steadily to grow the brand, Juventus still do not make as much as Inter Milan in commercial revenue.
The Nerazzurri collected 130m euros (£115.14m) in 2017 following the Suning's acquisition of the club while Juventus, Serie A winners and twice Champions League finalists in recent years, only managed 114m euros (£100.9m) according to Deloitte's Money League report 2018.
Juventus must increase their revenue stream and the club hope their fortunes will change with the arrival of Ronaldo.
Making a difference before his transfer was even confirmed, Juve's share prices increased by 33% last week at a time when major Italian companies, including Agnelli family's Exor, suffered a fall in the market.
Research company Hookit believes Ronaldo generated 404m euros (£357.9m) in value for his sponsors over the last 12 months - as noted by Forbes.
Italy's Calcio e Finanza have reported that their cautious estimation shows Ronaldo could increase Juve's commercial revenue by 30%. When you add that to how many ticket sales his presence will be responsible for, the possible renegotiation of sponsorship deals and a potential Champions League final, then Juve will be smiling.
How will he fit in?
His off field impact evident, questions have been raised about how Ronaldo will fit in at Juve, a club famed for working as a unit with no egos.
However, Juve have a secret weapon in Massimiliano Allegri.
A master tactician, Allegri will already have ideas about how to create the perfect formation, but Ronaldo is likely to have made his demands clear starting with the possible departure of Gonzalo Higuain.
The Argentine has been linked with a move to Chelsea to help fund the arrival of Ronaldo and that may well suit the Portuguese star who didn't always enjoy lining up alongside him when the pair were at Real Madrid.
After Los Blancos' exit from the Champions League in 2010, Marca dedicated their front page to a picture of the two forwards in a perceived dispute. Ronaldo was incensed that Higuain chose to shoot rather than pass to him.
In 2015, Napoli publically denied Higuain had called his former team-mate "egotistical and overrated" but has always declared that he believes his compatriot Lionel Messi to be the very best.
What would Higuain's departure mean?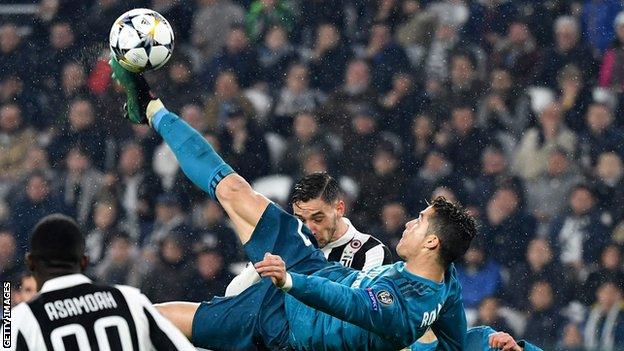 Whether he does or not, the Old Lady is confident Allegri, who is not afraid to try new formations as a part of his quest for tactical balance, will ensure Ronaldo shines and thrives alongside the likes of Paulo Dybala and especially Douglas Costa.
If the forward makes a few demands, Juventus will likely concede safe in the knowledge that everything he does, and demands, is to ensure success that they all yearn for.
They've boasted Ballon d'Or winners before and now Juventus are back.
Benvenuto in Italia Ronaldo!