World Cup 2018: 'England will be better for experience' - England pundit reaction
2018 Fifa World Cup third place play-off: Belgium v England
Venue: Krestovsky Stadium, St Petersburg Date: Saturday 14 July, 15:00 BST
Coverage: BBC Radio 5 live and text commentary and in-play clips online and in BBC Sport app
Their World Cup might have come to a tearful end, but England's young players have done themselves proud and will be "better for the experience", Sir Trevor Brooking says.
However, Brooking admitted Gareth Southgate's team "did not have the answers" against an "outstanding" Croatia.
"Croatia sorted themselves out after going behind," added Brooking, who played for England at the 1982 World Cup.
"It will come [for England]. They have had a great experience and they will only be better for it."
Brooking was in Moscow's Luzhniki Stadium for BBC Radio 5 live along with former England winger Chris Waddle and ex-England forward Dion Dublin.
"We had a nice run to the semi-finals but in the first half we looked like we should be here," said Waddle, who played in England's last World Cup semi-final, when they lost to West Germany in 1990.
"I don't know what happened at half-time. Early in the second half the legs went a little bit and you have to give Croatia credit. They came back and dominated."
'Pride and encouragement going forward'
England returned from the previous World Cup without a win and having finished bottom of their group in Brazil four years ago.
In Russia, a new-look team has beaten Tunisia, Panama, Colombia and Sweden, while they led Croatia for 63 minutes before losing in extra time.
Brooking, who won 47 caps between 1974 and 1982, said there was much to be positive about despite Wednesday's agonising semi-final defeat.
"England's young group have done themselves proud," he added.
"The fans applauded them at the end and they have enjoyed what's happened. You can see the encouragement going forward.
"To be honest, if England could have got a second goal in the first half [they could have wrapped it up] - they played well enough and had good enough chances to go 2-0 up."
'Southgate has broken down barriers and started something special'
It is not just England's players who have impressed in Russia - boss Southgate has also caught the eye with his calm and assured leadership.
"The fans know Gareth has started something with this team - he has started something very special with a group of young players that gave everything," added Dublin, who won four England caps.
"The fans have just been singing 'there's only one Gareth Southgate' and that, for me, sums up what he has done for England.
"He has broken down barriers, brought us all together and these fans respect what he has done and what he is going to be doing moving forward."
Former Match of the Day commentator John Motson said Southgate had made England "more personable for the fans".
"I really think we have made progress, and we have got international football in this country back to where it belongs. There is a buzz about it now," added Motson.
Waddle added: "Gareth Southgate is level headed. If he's honest he'll say what we have said. He won't beat around the bush and say 'I can't believe we lost it'."
'Modric and Rakitic's intelligence got Croatia over the line'
While England face Belgium in a third place play-off on Saturday (15:00 BST), Croatia are preparing to meet France in Sunday's final (16:00 BST).
Croatia have one of the most experienced squads in Russia, with captain and midfielder Luka Modric competing at his third World Cup finals, while the likes of Mario Mandzukic, Ivan Perisic and Ivan Rakitic are all seasoned internationals.
"England got to a semi-final of a World Cup and fully deserved to get there," added Dublin.
"But on the day the intelligent football, knowing how to win a football match, knowing how to keep a lead, was won by Croatia.
"It was won by Modric and Rakitic - the intelligence of those two players got Croatia over the line."
Waddle said England had been undone by Croatia's experience.
"Their ability to find space and use the ball better... I don't think you can argue with the final result," he added.
"I have to say over the course of the game Croatia were the better team."
Brooking said England "did not have answers" to overcome Zlatko Dalic's side.
"Their midfield players in particular were outstanding, and if you look at Croatia and the age of their players, this was the year this group had to win something," said Brooking.
"They have been knocking on the door and they are a talented group.
"They must have said at half-time 'look, we have to sort ourselves out here or this is it for us'. They did sort themselves out and England just didn't have the answers."
'Football didn't come home, but it's been amazing' - what you said
'We lived the dream' - what the papers say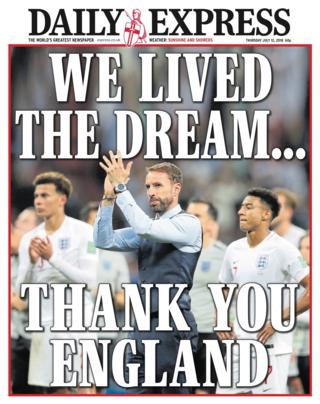 England's semi-final defeat is the sole story on the front page of the Daily Express