St Mirren: Alan Stubbs urges Buddies to 'raise bar' in Premiership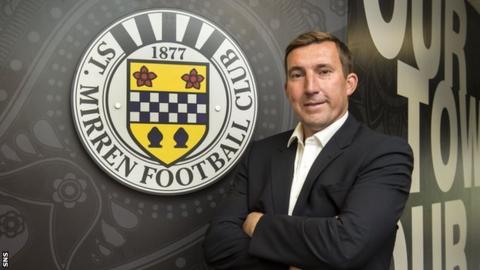 Manager Alan Stubbs has challenged his newly-promoted St Mirren team to make their mark in Scotland's top flight.
The Buddies won promotion from the Championship last season under Jack Ross and new boss Stubbs wants to maintain the club's momentum.
St Mirren's season begins with Friday's Scottish League Cup group stage visit to Kilmarnock, who finished fifth in last year's Premiership.
"We're looking to raise the bar," said Stubbs, 46.
"We have to be competitive this season. There's no point in me stating anything different. It was fantastic what the club and Jack achieved last year but we are entering a completely different ball game in terms of what we're going to be up against.
"We know the task ahead of us is going to be challenging but it's going to be an exciting one."
The Paisley side won automatic promotion to the Premiership last year, finishing 12 points clear of Livingston, who defeated Partick Thistle in the play-off final to join Saints in the top tier.
Now Stubbs wants to keep spirits high as St Mirren participate in the highest echelon of Scottish football for the first time since 2015.
"We certainly want to build on the feel-good factor," the former Hibernian head coach said. "We've got record season ticket sales coming on the back of a promotion so there is a lot of positivity around the club.
"One thing I'm feeling at the moment is that the players are giving me everything they've got.
"In terms of their attitude, I can't fault them; they have been very, very good since I've come in and as we get closer to the league kicking off, I expect them to be in pristine condition and ready and raring to go."
St Mirren have been active in the summer transfer window, making seven signings so far, with wide player Haydon Coulson and goalkeeper Danny Rogers the latest additions.
Stubbs, however, still hopes to add to his squad.
"I've had conversations with a number of players in terms of their game time," said the former Everton and Celtic defender. "I'd rather be honest with people, be up front and tell them that.
"It's not necessarily that I don't like them, it's just in terms of what I'm looking to bring to the football club and that may be slightly different.
"We're still active, we're still looking to strengthen the squad and we'll look to try and do that as quickly as we possibly can.
"I'm happy with what we've done, but I'm still looking for more."