Kilmarnock: Steve Clarke counts on familiar faces and team spirit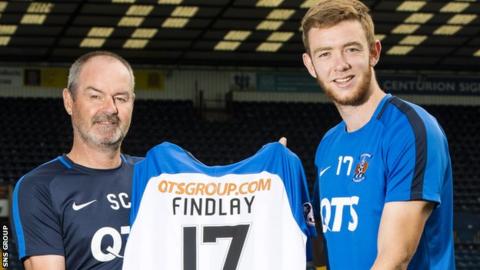 Manager Steve Clarke is looking to continuity and camaraderie as he targets another good campaign with Kilmarnock.
The Ayrshire club finished fifth in the Premiership with a record points tally last season.
Clarke rewarded several players with new contracts and has brought Stuart Findlay back on a permanent deal.
"The players who did so well for me last season deserve the chance to do it again," said Clarke.
"We are always looking in the market and if we can find one or two that will help the squad.
"But we don't feel the urgency to chase people. I won't just sign people for the sake of it. If they turn up, great. If not, we go with what we've got."
The only new face so far is Mikael Ndjoli, recruited on loan from Bournemouth.
"He gives us something a little bit different up front, good power and pace," Clarke explained. "He's only 19 so we're not putting too much pressure on the lad. He's coming up here for experience and it's good Bournemouth trust us with his development."
Findlay, 22, was on loan from Newcastle United last term, making 36 appearances.
"I was surprised nobody else tried to take him," said Clarke. "He was excellent towards the end of last season, settled into left centre-back and did very well.
"We look forward to making Stuart an even better player."
'What we did last season is history'
Clarke, who signed off on an improved new contract last week, oversaw a remarkable revival after taking over at Rugby Park in October.
Killie had not won a league match before his appointment.
"What we did last season is history," he said. "It's behind us. We need a quicker start than last year, to establish a rhythm and momentum, but that's easy to say.
"There are no targets. Our aim is to always be competitive in every game we play. If we do that, we should have enough points for another good campaign.
"We've built a good team spirit. The players enjoy coming to their work. If you have that, then performances tend to follow."
Kilmarnock's season kicks off on Friday evening as St Mirren visit in the opening round of the League Cup group stage.
"I've never been back for pre-season in June in my life," said former West Bromwich Albion and Reading boss Clarke.
"I understand the concept, it gives lower division clubs the opportunity to pick up a bit of gate money.
"But there are bits they could do to help us, maybe give us five substitutes instead of three, which means you're not risking too many players this early in the season."
Clarke revealed that last season's top scorer Kris Boyd is not ready to start as he recovers from a slight knock, while senior call-up Stephen O'Donnell and under-21s Greg Taylor and Iain Wilson are not involved after their summer involvement with Scotland.
"We're as ready as we can be and we want to go as far as we can," he explained. "If you win your first game, it makes the group that bit more comfortable."