World Cup final 2018: Why France look in good shape for glory against Croatia
By Julien Laurens
French football writer
Last updated on .From the section World Cup158
2018 Fifa World Cup final: France v Croatia
Date:
Sunday, 15 July (16:00 BST).
Venue:
Luzhniki Stadium, Moscow
Coverage:
Live on BBC One and online; full radio commentary on BBC Radio 5 live and text commentary and in-play clips online and on BBC Sport app
Every team have their own history. Every generation of players has its own path towards glory.
This France squad is no different. To get to the 2018 World Cup final, they had to beat the critics, overcome adversity and answer all the questions asked after their average performances before and at the beginning of the competition.
"There were doubts over us at the start of the tournament," said midfielder Paul Pogba on Thursday.
Yet here they are, one game away from winning a second World Cup, 20 years after Zinedine Zidane-inspired glory on home soil.
"The most important match of our life," as captain Hugo Lloris put it.
Why is 2018 different to 2016?
The first thing Pogba said to his team-mates in the dressing room after the 1-0 victory against Belgium in the semi-final on Tuesday was about 2016 - when they lost the European Championship final in the French capital.
"We can't do like two years ago," he shouted, with all his team-mates and head coach Didier Deschamps listening around him. "There is one more game to go. We are not finished here. We stay calm, we win it and then we enjoy."
Pogba and the other eight players who were there in Paris two years ago know exactly what happened against Portugal. France were the super favourites. They had beaten world champions Germany in the semi-final 2-0 and the trophy was theirs for the taking.
"We got a bit complacent. We were too euphoric after beating Germany. We thought it was done," said striker Olivier Giroud. "This time it is different. We are not getting carried away. We are happy but we know the job is not done yet."
Pogba offers a very honest mea culpa about the heartbreak of 2016. "The semi-final against Germany felt like we had won the final. We thought Portugal was a foregone conclusion. That was our mistake. Trust me, this time we won't make the same mistake. We will give everything and be strong to win it this time."
The mental and collective strengths of this team are far superior to two years ago. They are hungry and determined. "Give nothing away, never," Deschamps kept telling his players in the dressing room before the Belgium game.
They didn't. And they won't in the final either.
Deschamps proved his point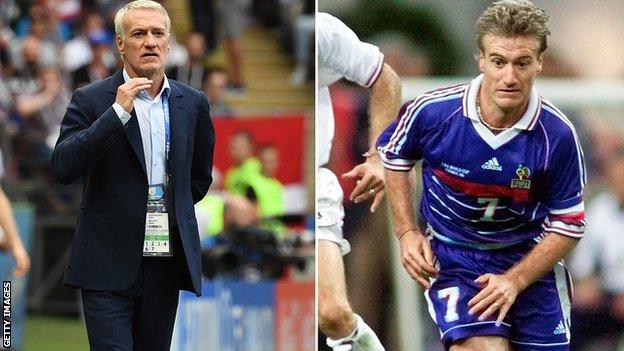 Deschamps is one game away from becoming only the third man in history to win the World Cup as a player and a head coach after Brazil's Mario Zagallo (1958, 1962 and 1970) and West Germany's Franz Beckenbauer (1974 and 1990). Deschamps was the captain in 1998 and 20 years later he could lift the trophy once more.
It would be his win, first and foremost. "He deserves so much credit," said Lloris. "He put a plan in place and he created a team. Nothing is bigger than France. Everyone makes the efforts and plays for the team and for each other. He also brings his calmness, his serenity, his experience."
Deschamps was angry with the French media at the beginning of the tournament. He thought they were too critical of him despite three very underwhelming performances in the group stage.
He tried to tweak things before the start of the competition and in the first game against Australia. He quickly came back to his old winning formula: a balanced tactical formation, a strong defence - and his legendary luck.
He even admitted himself: "Am I often at the right place at the right time? Yes certainly." With his conservatism and his caution, Deschamps has made this team in his image.
It might not be everyone's cup of tea and, with the players in the squad, France could certainly play a much more expansive style of football. But Deschamps won the 1998 World Cup with a strong team spirit and an impressive defence. He has transferred that to his players.
The leaders have finally emerged
We wondered how long it would take Pogba to become the boss of this team. We don't need to wonder any more.
On and off the pitch, he has finally matured to take responsibility and assume the leadership.
"He has always been like that but this time he put himself in question and he realised he had to do more for the team," said defender Samuel Umtiti, who scored the winner in the semi-final.
"He had to defend more, be more disciplined. He makes the efforts for the team more than before. We needed him to get into a new dimension in this competition on every level, and he has."
Like Pogba, another member of the 1993 generation to come to the fore in this tournament is Raphael Varane, who was immense against Belgium. He has also taken a much bigger role off the pitch. "He has always been a leader. He has it in his blood. But he has grown with this team," said Pogba.
Varane, like Pogba, was only 21 in 2014. He was naively beaten in the air by Mats Hummels when Germany defeated France in the quarter-finals that year. Four years later, at the same stage of the competition, he won an aerial battle to score a huge goal against Uruguay.
And then there is Kylian Mbappe. At 19, he is not a full leader yet - but he is the technical leader of this team. His talent is immeasurable. He is the kind of genius that you only see once every 25 years.
Every time he touches the ball, something happens. His pace, his skills, his confidence, his maturity, his intelligence, nothing is short of exceptional with him. And he has absolutely everything to rule the world for the next decade at least.
1998 = 2018?
Twenty years on, the similarities between France 1998 and France 2018 are striking. First of all, Deschamps is a disciple of Aime Jacquet, the 1998 head coach. It is therefore not surprising to find a lot of points in common between the two teams.
Like Jacquet, Deschamps has built a harmonious and homogeneous squad. He left some big talents at home - Anthony Martial, Dimitri Payet, Adrien Rabiot - because they did not fit into the team spirit he wanted to build. Jacquet did the same.
France won in 1998 with an incredibly strong defence, and in 2018 it is pretty much as solid. In 1998, three defenders scored in the competition - Bixente Lizarazu, Laurent Blanc and Lilian Thuram. Three have scored so far in Russia - Benjamin Pavard, Varane and Umtiti - and they have been some huge goals too.
The collective strength, maturity and control of the two teams are very similar - except that the 2018 one is much younger, at 25 years and eight months, which is even more remarkable.
The 1998 team had their undeniable star, and so do the 2018 version. Zidane and Mbappe were born 26 years apart - but they are two geniuses who buy into the team ethic.
Olivier Giroud has the same mentality. He works hard but is yet to score. His frustration is only hidden behind the success of the team, but Stephane Guivarc'h, who is nowhere near as talented as Giroud, had a similar World Cup in 1998.
This generation also has a lucky charm. In 1998, Laurent Blanc used to kiss Fabien Barthez's bald head before each game. This time, the players caress Adil Rami's moustache. Mbappe started before the Argentina game and then the others followed.
Football players are often superstitious. And for now, Rami's moustache is as important to them as Barthez's head was to the 1998 squad.
Before the World Cup, Julien Laurens wrote a piece for BBC Sport posing the questions which needed to be answered by France in Russia. Read that feature here...