England's World Cup reputation restored amid the pain - with hope for the future

By Phil McNulty
Chief football writer in St Petersburg
Last updated on .From the section World Cup593
Gareth Southgate was in a reflective mood as he prepared to bring England's momentous World Cup campaign to a close.
As he prepared for Saturday's third-place play-off against Belgium in St Petersburg, the manager looked back on the run to England's first World Cup semi-final in 28 years - and ahead to the future for his emerging side.
So what will England and Southgate take away from Russia?
England's reputation restored
England will return home to widespread acclaim for reaching the last four. They were 22 minutes from their first World Cup final since 1966, until Croatia came back from a goal down to win 2-1 in extra time on Wednesday.
In the past, other nations have been mystified by England's sense of self-importance at major tournaments - given it has so rarely been matched by results.
Southgate's side may have had a favourable draw, helped by big names falling early, but they gave reason to be proud in Russia.
They attempted to play in a style that countered the old English stereotype of perspiration over inspiration. And while it would be understandable if Southgate took some time to recover from the anguish of getting so close to a World Cup final, this tournament has enhanced his reputation - and restored England's.
Southgate restores unity
England's united front was not simply the reflection of a polished Football Association public relations strategy - it was a reality on and off the pitch.
In the past, England squads have been riven with divisions based around club loyalties. Southgate has ensured no such problems existed in Russia.
When captain Harry Kane referred to his fellow squad members as being "like brothers", no-one flinched.
England's players have genuinely shared a special bond in this past month, reflected in their behaviour - whether at training at Zelenogorsk, out and about in Repino, or on the pitch.
When the players got to their hotel rooms at the start of the tournament, the FA ensured they had photographs of their families there.
Southgate used the personal touch too. A member of the FA staff found a handwritten note from the England manager in his room on arrival - sharing it on social media.
Yes, it was part of an overall strategy but it was genuine - and there was a feeling of unity among everyone involved with England in Russia. That is something solid for Southgate to build on.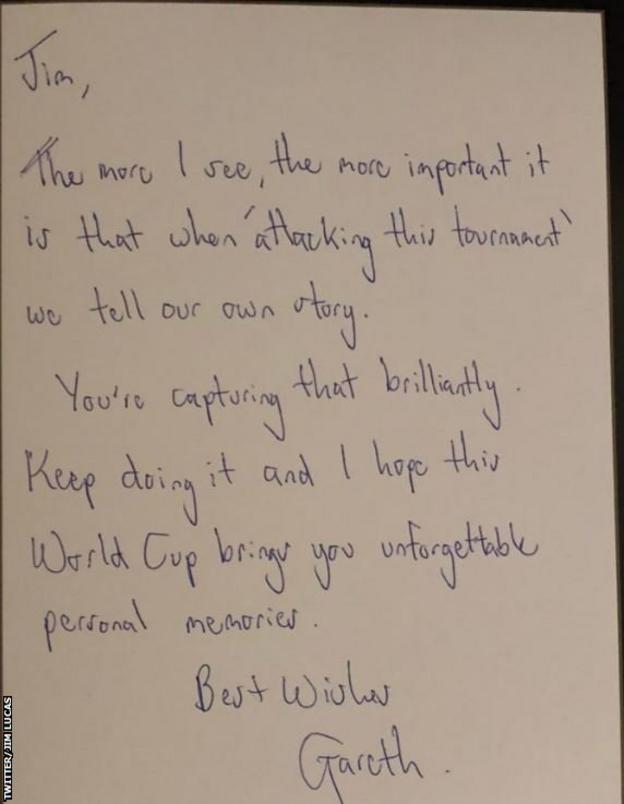 England have a manager with a plan
England leave Russia with plenty to encourage them - including a clear tactical plan.
In previous tournaments, tactics appeared a movable feast - from the farce of Paul Scholes playing on the left of midfield as Sven-Goran Eriksson tried to shoehorn his best players into a team, to the madcap selections of Roy Hodgson's latter days in charge.
Southgate decided more than a year ago a 3-5-2 system was what suited England best, then decided on the players to fit it.
He wants England to be a modern, possession-based team. To a large extent, he has achieved that, although some bad long-ball habits returned when the tide turned against Croatia.
In terms of strategy, Southgate has demonstrated a clarity of thought that bodes well.
England feel the love
In the past England's players have appeared aloof. Not any more. England has fallen in love with its footballers again.
There was a refreshing simplicity around this squad, after the overblown celebrity of the David Beckham era, the distasteful circus of the WAGs in Baden-Baden in Germany in 2006 and the unrelenting focus on high-profile stars such as Wayne Rooney.
Southgate said: "The desire of our public is to see players playing with pride, first and foremost.
"They want to see a team who leaves everything out on the pitch and they have seen that without question.
"They've got to know the players better I think and the reality is different to the perception, with this group in particular. There will be an affinity there."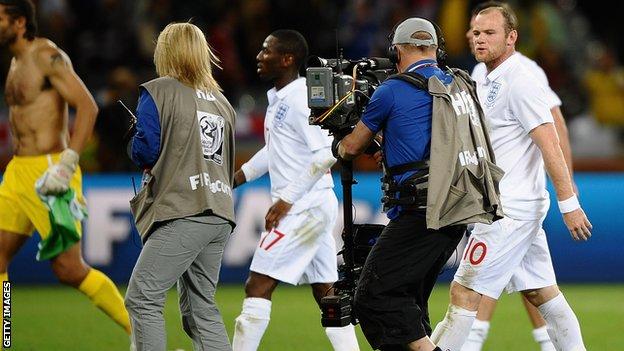 England's players were remarkably open when telling their stories, such as when Danny Rose spoke about his struggle with depression.
The squad's modesty and likeability touched a chord back home and led to a surge of goodwill bordering on hysteria as the World Cup progressed.
Relations between the team and journalists were cordial, as they played darts and mixed together at the media centre in Repino - with the slight blip of "teamsheetgate", when assistant Steve Holland was pictured holding a piece of paper that appeared to give away the line-up for the group match against Panama.
The FA's open-house policy with the media, starting with the Super Bowl-style presentation of 23 players for interview at St George's Park in early June, fostered good relations, although results helped.
This was a happy England camp. It was reflected on and off the pitch.
England's spine is being put in place
England not only have a team for the present but also one for the future - and the all-important spine is taking shape.
Jordan Pickford, at 24, has the capacity to be England's goalkeeper for the next decade while Harry Maguire, only a year older, has been outstanding in that three-man defensive system, with the best yet to come from John Stones, who is 24.
Southgate has work to do in terms of midfield creation but Dele Alli will be a long-term fixture while 24-year-old captain and leading marksman Kane will, barring accidents, wear the armband and be England's main spearhead for years to come.
England still need winning mentality
England's ultimate disappointment came as a result of failing to close out a semi-final against Croatia despite controlling it for 45 minutes.
They are a team in development and there will be bumps in the road - but Southgate himself said England cannot be regarded as a top team until they beat a top team.
England have not beaten a team ranked above them at a major tournament since defeating Argentina in Japan during the 2002 World Cup. The current side have still to acquire that match hardness.
It was something Southgate has been reflecting on, saying: "We need to keep continually improving. The improvement over the last eight months has been dramatic, but we've had six matches playing with this system ahead of this tournament.
"The players have got a lot clearer. We felt the best way to be successful was to play that system and get the detail as clear as possible. Now we've cemented that, we can look at other things moving forward and progress in other areas."
If they end their World Cup adventure by overcoming Belgium, who stand third in the Fifa rankings, it will be a highly satisfactory starting point.