Gareth Southgate: 'England at World Cup has raised expectation and belief'
By Phil McNulty
Chief football writer in St Petersburg, Russia
Last updated on .From the section World Cup466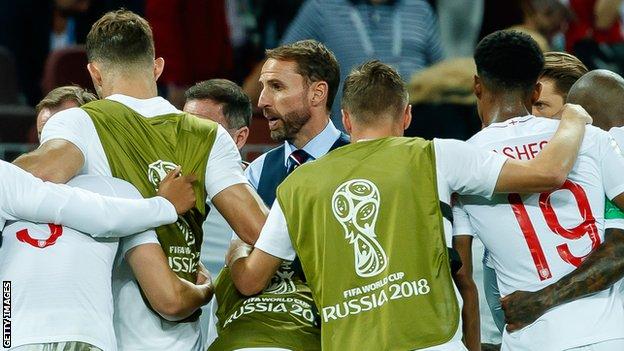 England manager Gareth Southgate says he is happy with raised expectations after reaching the World Cup semi-finals - as belief has increased too.
His side face Belgium in Saturday's third-place play-off in St Petersburg after Croatia dashed hopes of a first World Cup final appearance in 52 years.
"There were low expectations this time which relieved the pressure," he said.
"But there was still pressure to get out of the group, win a knockout game, win a penalty shootout."
He added: "The players coped brilliantly with that. You have to cope with expectation if you want to play for England. We've raised expectation but that is OK because we've also raised belief.
"The players can associate playing for England with enjoyment, fun and not being under siege and feeling everything is against them. There's an energy and a connection back. That's important in the short, mid and long term as well."
Despite the disappointment of losing Wednesday's semi-final in extra time, Southgate is determined England will leave Russia on a high with victory against Belgium.
Roberto Martinez's side won 1-0 when the two countries met in a Group G game on 28 June, but lost their semi-final 1-0 to France after knocking out favourites Brazil in the quarter-final.
"In terms of mentality, it's obviously been a really difficult couple of days for us," said Southgate.
"We were 20 minutes from a World Cup final and then, in extra time, 10 minutes from a shootout to get to a World Cup final. The reason for us being here was to achieve that big goal.
"We got back to St Petersburg at 6.30am on the day after the game, so it has been an emotion-filled few days but the players are incredible.
"They're a pleasure to work with. Their energy this morning and desire to finish the tournament well was fantastic.
"We owe it as much to ourselves as to our nation to finish well."
Southgate has yet to decide on who will line up against Belgium - but the physical rigours of this World Cup campaign mean England's line-up will have changes from the side that lost to Croatia in Moscow.
"We have to decide who can go again physically," said Southgate. "Everyone wants to play. Everyone trained this morning. Sometimes it's not always a good decision to play if people's energy isn't quite there.
"It won't be exactly the same starting 11, but we want ideally to make as few changes as possible. There are one or two injuries, one or two with a bit of illness.
"We have high motivation to perform and finish with a medal at a World Cup, which only one English team have ever done. We'd like to redress having lost to Belgium once before already, too."
Southgate believes there is room for development in this emerging England team, who went into the tournament sitting joint-12th in the Fifa rankings.
However, he admitted that only time would tell if this run to the last four in Russia ends up being their high point.
He said: "None of us know if this is as good as it gets. Our aim is to build with a system now through the development teams. We've had a lot of success at junior level, now with the seniors. We want to be challenging for semi-finals and finals.
"If you're there, then the chances of success are high. I expect we'll be back in the top 10 when the rankings come out. That's probably where we are. We're a bit outside the top five, although we are competitive against those teams."