Wayne Rooney: DC United debut ends in win for former England captain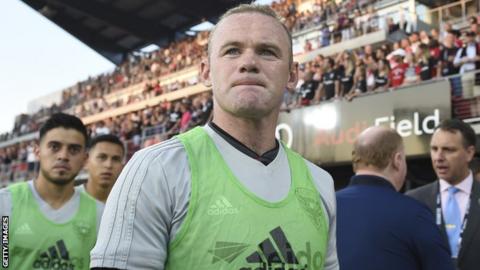 Wayne Rooney came off the bench to make his first MLS appearance and help DC United record their biggest home win of the season against Vancouver Whitecaps.
The ex-Everton and Manchester United forward was introduced 10 minutes after half-time to huge acclaim from the 20,000 crowd at the new Audi Field.
England's record scorer set up Paul Arriola for a goal and almost added one himself with a header in the 3-1 win.
Earlier, he watched England lose their World Cup play-off 2-0 to Belgium.
Simple passes & clever touches - Rooney watch
It is two weeks since Rooney left Everton to take on the challenge of reversing the fortunes of DC United, who are bottom of MLS's Eastern Conference.
Coach Ben Olsen did not feel the 32-year-old had trained enough to start the match, but he introduced the forward shortly after the home fans had chanted "we want Rooney" as he warmed up.
Within a minute, Rooney was lining up a free-kick, which he drove into the wall. It was the last time he gave the ball away.
Olsen said afterwards he suspected Rooney found the pace of the game a bit slow, but his link play, touch, and economy of movement helped speed up his side's attacks.
Playing as an orthodox centre-forward, his best moments were simple passes that led to two well-taken goals and a near-post header that was creeping in until it was clawed away by goalkeeper Brian Rowe.
And, in the closing stages, there was time for a grumble at referee Hilario Grajeda when he was denied a corner.
Cheers & handshakes - the fans' response
DC United have tended to shy away from signing the sort of older, marquee players that many other MLS clubs favour, with the likes of Rooney's former United team-mates Zlatan Ibrahimovic and Bastian Schweinsteiger at LA Galaxy and Chicago Fire respectively.
However, their fortunes need changing and the supporters who packed into the club's new home for the opening game greeted Rooney with enthusiasm and a sense of expectation.
He was cheered when he warmed up for the first time - which coincided with the hosts' opening goal - and his appearance on the pitch brought passionate cries reminiscent of the early stages of his career, when he seemed capable of bludgeoning opposition defences on his own.
After the final whistle, he shook everyone by the hand and was one of the last to leave the field, which he did to huge applause.
'I want to win matches' - what they said
Rooney might have been given the freedom to settle into Washington, but his career as a footballer brings with it a rich history and depth of experience his new team-mates are unlikely to get close to.
"My team-mates might look at me as someone who has had a career with Manchester United, Everton and England and they haven't got to that level yet," he said. "But I am a DC United player now. And I want to win."
Olsen - who had a stint at Nottingham Forest and earned 37 caps for the United States - is the man who must get the best out of Rooney, who joined on a lucrative three-and-a-half-year contract.
He, too, lacks anything close to Rooney's experience and the 41-year-old says he will not be afraid to ask his new signing for advice.
"I would be silly not to," he said. "My approach has always been to have an open-door policy. I am looking to improve as well and while I am still the coach I am sure there will be plenty of dialogue."