World Cup 2018: France complete two-year road to redemption with final win over Croatia

By Phil McNulty
Chief football writer
Last updated on .From the section World Cup
France's victory over Croatia in the World Cup final - and the manner in which this superb climax unfolded at the atmospheric Luzhniki Stadium - provided a fitting finish to a thrilling tournament.
This last month in Russia has witnessed a showpiece underpinned by superb organisation. It has also, more significantly, provided a feast of football laced with elements of surprise that made it arguably the most exciting World Cup of the modern era.
France's machine turns into perfect combination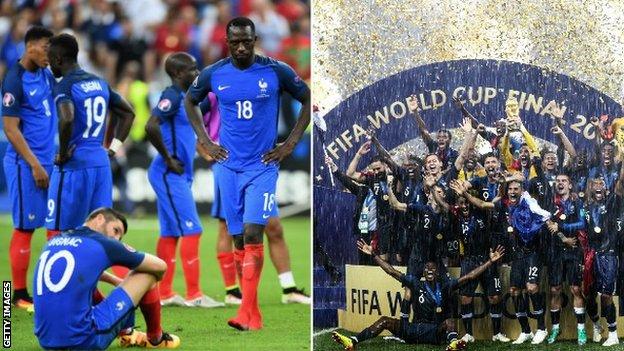 It has been a two-year road to redemption for France and coach Didier Deschamps after the disappointment of losing the final of Euro 2016 to Portugal on home territory in Paris.
France had everything in their favour on that balmy July night at the Stade de France - home support, the status of favourites and an early injury to Portugal's icon Cristiano Ronaldo that forced him off in tears.
And yet France choked, Deschamps' conservatism coming back to haunt him as Portugal dug deep to win in extra time.
This meant the pressure was on Deschamps to deliver in Russia and the scars from Paris have been wiped away by France winning the sport's greatest prize.
And France have achieved their goal with a winning combination of all-round power and efficiency - but sprinkled with the sort of stardust that makes the crucial difference at elite level.
Hugo Lloris, despite his mistake here, is regarded as one of the world's best goalkeepers while the central defensive partnership of Raphael Varane and Samuel Umtiti has all the ingredients to cope with the best attacks.
In midfield, the likes of N'Golo Kante and Paul Pogba apply their contrasting qualities, but it is in attack where France have that "X factor" - and how it came into play in this World Cup final.
Antoine Griezmann is a world-class operator - canny, quick and with a ruthless edge in front of goal. He is used to the big occasions with Atletico Madrid and makes them his home.
And then there is Kylian Mbappe. The 19-year-old is destined for greatness, his stature reflected in winning the World Cup in the infancy of his career.
A new star is born
No-one should ever pen premature footballing obituaries to greats such as Lionel Messi and Cristiano Ronaldo, even though they both made early exits from the World Cup and the latter will now continue his career at Juventus after leaving Real Madrid.
Messi is still only 31 and will grace the game for much longer while 33-year-old Ronaldo has lost none of his hunger or desire and still possesses the magic, as he proved with a hat-trick against Spain in the group stage here.
When the guard is ready to change, however, 19-year-old Mbappe has shown already that he will be a fitting torch-bearer.
Mbappe was not an unknown quantity at this World Cup. He was already a shining star for his deeds at Monaco and then at Paris St-Germain.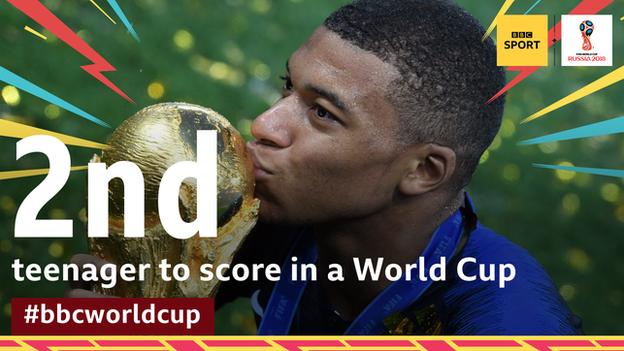 When he scored France's fourth goal with a low finish past Croatia keeper Danijel Subasic, Mbappe - at 19 years and 207 days - became the second youngest goalscorer in a World Cup final.
The great Pele holds the record at 17 years and 248 days, set when he scored against Sweden in the 1958 World Cup final.
Mbappe's thrilling mixture of electric pace, brilliant finishing and youthful exuberance means he can stand alongside Brazil's Neymar as a future poster boy for football.
And, for one so young, he has a remarkably mature temperament. Mbappe was smiling broadly as he sang the French national anthem 'La Marseillaise' before kick-off - and to twist a line from that rousing song, he has everything to be the master of his destiny.
Mbappe is at the beginning of a remarkable career and with his stellar performances here against Argentina, scoring twice in France's 4-3 win, and in the World Cup final, he simply confirmed the game's newest global star was born.

Moscow's final drama mirrors superb World Cup
Russia's World Cup contained drama right until the end - a brilliant final followed by a presentation ceremony in a biblical rainstorm, spectacular thunder and lightning rolling around the vast sweep of the Luzhniki Stadium, and president Vladimir Putin, initially at least, the only VIP protected by an umbrella as he met players and officials.
French president Emmanuel Macron, understandably, appeared almost oblivious to the torrent of rain as he celebrated, while Croatia counterpart Kolinda Grabar-Kitarovic, in national team kit as usual, was a mixture of tears, smiles and big hugs in defeat.
This has been a wonderful World Cup and got the final, if not the weather, it deserved.
The misgivings of the underlying political situation will remain but in a sporting context Russia hosted a World Cup that went without barely a hitch, apart from a second-half pitch invasion in the final, and was accompanied by a carnival of football.
Its overall atmosphere was helped by shocks that saw holders Germany fall at the group stage, Argentina lose to France in the last 16, and then Brazil fall to Belgium in a classic quarter-final.
And, crucially, the hosts transformed themselves from no-hopers before the World Cup to reach the quarter-final, sending the nation into ecstasy by beating Spain on penalties in the last 16 before going out in the same fashion to Croatia in the quarter-final.
It was a run that electrified the country and simply added another level of gloss and excitement to the World Cup.
Croatia, meanwhile, may have lost the final to France but in 32-year-old midfield man Luka Modric they had the tournament's outstanding player, a creator with great footballing intelligence who probed and dictated the pace of games in masterly fashion.
He won the Fifa Golden Ball as player of the tournament. Scant consolation for defeat, perhaps, but richly merited.
And some final glory for England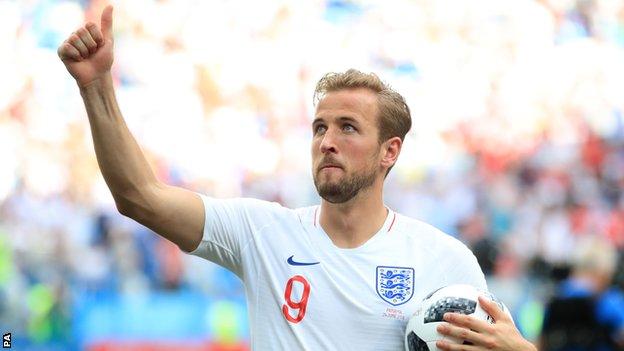 England had already landed back in Birmingham after their departure from Russia when they received one final piece of good news to conclude a tournament in which they made their mark on the World Cup once more, reaching the semi-finals before finishing fourth.
France pair Griezmann and Mbappe were on target in the final to take their tallies to four but England captain Harry Kane stayed out in front with six goals to win the World Cup's Golden Boot.