Dave McParland: Forward-thinking manager 'made his players believe'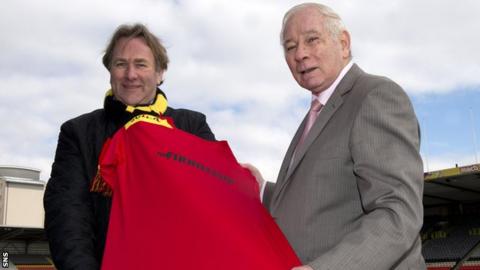 Naming Partick Thistle's new training ground after the architect of their most famous victory - a 4-1 Scottish League Cup final crushing of Jock Stein's Celtic - was a fitting tribute to Dave McParland, according to former striker Jimmy Bone.
The decision, announced only days before McParland died at the age of 83 on Saturday, was particularly appropriate, Bone suggested to BBC Scotland, because of his former boss's role in developing young talent on the training field with a string of Scottish clubs during his career.
Thistle, Queen's Park, Celtic, Hamilton Academical, Airdrie, Dunfermline Athletic, Motherwell and Dumbarton all benefitted from the presence of the man described by those who knew him as one of football's gentlemen - but one with a steely edge.
At one stage, it looked like he was being groomed as successor to the legendary Stein, to whom he spent two years as assistant at Celtic Park, but it was the extraordinary result at Hampden Park on 23 October 1971 for which McParland will forever be most remembered.
"In the build-up to the cup final, he left no stone unturned," Bone recalled. "He actually did a brainwashing job on a lot of us to try to get us to believe that we could actually win.
"A lot of what happened on the day comes down to the leadership and the coaching of Davie."
Lifting the cup with Thistle was particularly close to McParland's heart considering he spent his whole playing career with the Glasgow club, making 584 appearances and scoring 104 goals before his four-year spell as manager.
"He always used to say it doesn't matter how old the player is," Bone said. "If he's good enough, he plays.
"He was like that throughout his career. I was actually very fortunate to have worked with him at three different clubs, albeit in different roles - at Partick Thistle, at Airdrie and also when I was at Dunfermline for a spell.
"He believed in the freshness of young players in and around the team."
Indeed, five of the starting XI who faced Celtic that day, including future Scotland goalkeeper Alan Rough, were 21 or under.
Standing between the side McParland led back to the top flight only months earlier at the end of his first season in charge was a formidable Celtic team two thirds of the way to completing their nine-in-a-row run of league titles.
Legends like Kenny Dalglish, Jimmy Johnstone, Lou Macari, Tommy Gemmell, David Hay, Bobby Murdoch and Tommy Callaghan lined up in the green and white hoops.
Yet, by half-time, Thistle had effectively secured themselves one of Scottish football's biggest upsets, Bone himself scoring the fourth goal with no reply - news of which inspired a number of Rangers fans to abandon their side's league game at Ibrox to swell the 62,500 crowd across the city at Hampden and share in the Jags' celebrations.
"The biggest thing was we went into the game actually thinking we would win it," the former Norwich City, Sheffield United and St Mirren striker said.
"After the game, Davie came and said, 'well done, I thought you would win'.
"I also played alongside him - it was his last season as a player and my first season as a player.
"He was the ultimate professional and, when he took over as assistant manager, then manager, it was very, very good on the training field.
"He was an inspiration, he was a really nice guy and he was very good to his own players."
McParland, who had started off as a flying winger before moving back into midfield and finishing his career in defence, was to end his long association with the Jags in 1974 after a disagreement with the board.
However, he was soon making his mark at Queen's Park, persuading the amateur club that he should be their first head coach not to have his match selections made by committee.
"He earned respect by giving people respect," Bone said. "He was very knowledgeable, so as soon as he started to talk about the game, people immediately bought into what he was saying.
"He was one of these guys that knew the buttons to press. He just knew how to get the best out of players."
Those qualities led Stein to recruit McParland as his assistant on the training ground in 1976 as the future Scotland manager took a more hands-off approach while recovering from a serious car crash.
Former Scotland midfielder Pat Stanton recalled how Stein had valued the former Thistle manager's input.
"Obviously, with a figure like Jock Stein there, he dominated the whole thing, but the players listened to Davie," he said.
"There were a lot of good players there who took his advice.
"Even though they were playing under one of the best managers of all time, they knew his place and Jock just let him get on with it."
Celtic won a league and cup double in McParland's first season as assistant, but he left the club the following summer after a disappointing fifth-placed finish.
He would go on to manage Hamilton, leading them to a League Cup semi-final in 1979 - still their best performance in a major competition since World War II.
McParland subsequently was head of youth development with Airdrie, Dunfermline and Motherwell before a spell as Dumbarton's director of football.
However, Stanton believes, had circumstances been different, McParland could have been a worthy successor to Stein.
"There were a lot of good players at Celtic at the time - like Kenny Dalglish, Danny McGrain and Johnny Doyle - but they all listened to what Davie had to say," added the former Dunfermline and Hibs manager.
"When you get a change at the top, everything else changes, but he would have been up to it."