Bobby Reid: New Cardiff City striker inspired by 'crazy' 2017-18 season
Last updated on .From the section Cardiff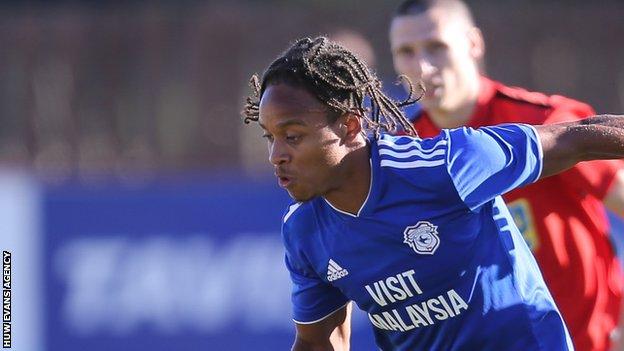 Bobby Reid says his "crazy" experience of the big time last season has fuelled his desire to succeed with Cardiff City in the Premier League.
The striker was part of Bristol City's surge to the Carabao Cup semi-final and says the success convinced him he could play in the top flight.
Manchester United were among the big clubs beaten by the Robins before they bowed out to winners Manchester City.
"A little taste of it made me want more," said the 25-year old forward.
"That's one of the main reasons I wanted to come to the Premier League.
"Beating Manchester United was a crazy experience. Scoring at Manchester City was another crazy experience.
"I want to better myself and keep challenging myself, that's why I want to play in the Premier League and put myself against the best players.
"I had a sniff of it last season against Manchester City and Manchester United and I thought I did well.
"So if I can do that against them, why can't I do it against other teams?"
Reid signed for Cardiff on a four-year deal for a fee in the region of £10m after scoring 21 league and cup goals last season for Cardiff's Championship rivals, a move he hopes will not lead to ill-feeling from Bristol City fans.
"There is a slight rivalry there," he admitted. "But for me, Premier League football is where I want to be.
"I had the opportunity to play Premier League football and as a kid I always dreamed of that.
"I think it's bigger than me just making the Premier League. It's for people that know me... to know it's possible to do things you dream of.
"I could not turn it [a move to the Premier League] down. At the end of the day, I am going to give my all for every club I play for.
"I gave my all for Bristol City and I will give me all for Cardiff. Hopefully the fans of both sides can accept me."