Injured Cove footballer Jordon Brown thanks medics and fans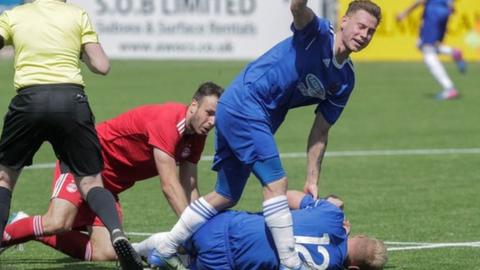 A footballer who suffered a serious head injury has thanked medics and fans for their help and support.
Jordon Brown, 25, of Cove Rangers, was taken to hospital on Sunday after a collision with Aberdeen's Andrew Considine in a pre-season friendly.
The game was abandoned and spectators were asked to leave.
Now recovering at home, Brown said: "Can't express enough thanks for the love and support, completely overwhelmed."
'Amazing response'
He wrote on social media: "It was a completely accidental collision with Andy that could happen during any game.
"The rapid response from everyone was amazing.
"I am so lucky to be recovering at home with my family. Looking forward to making a full recovery now and to being back on that pitch creating better memories."
The former Aberdeen youth player signed for Cove in June after five years with Peterhead.
The friendly was arranged to officially open Cove's new stadium.