Fifa orders Sierra Leone FA road map to take diversion
By Mohamed Fajah Barrie
BBC Sport, Freetown
Last updated on .From the section African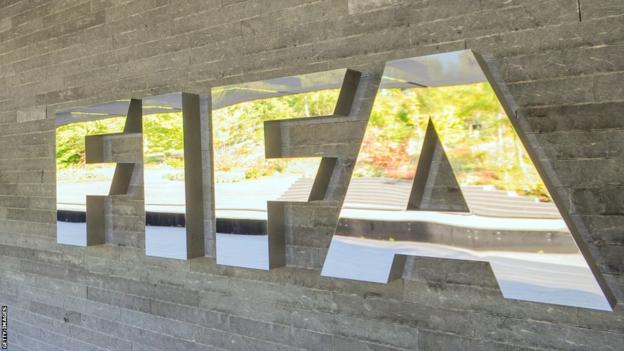 The Sierra Leone Football Association (SLFA) says it will be submitting a draft of its new statutes for Fifa's approval in the coming days. 
The delay means that an extra-ordinary congress due on July  27 and 28 has now been postponed by football's world governing body.
Fifa sent a letter to the SLFA signed by secretary general Fatmata Samoura ordering the delay.
"Considering that the revision process is generally time consuming, the extraordinary congress scheduled for 27 and 28 July 2018 should be rescheduled to a date to be determined at a later stage," the letter stated.
"We're kindly asking you to provide us with draft versions of both documents as soon as possible in order to immediately start the revision process.
"Once the SLFA and Fifa have agreed on the draft version of these documents, the SLFA will be able to convene an extraordinary congress to adopt both regulations."
However the postponement has angered both the Sierra Leone sports minister Ibrahim Nyelenkeh and some members of the SLFA.
The minister had hoped to oversee the return of football in the country within 90 days of taking office in May.
Nyelenkeh has warned that his government will take strong action against the SLFA if the congress doesn't hold as originally scheduled.
"We'll not accept the postponement because time is not on our side," Nyelenkeh told BBC Sport.
"Convening the extraordinary congress is part of the road map, so why can't we have it now?
"My government inherited the problems in the SLFA and I think there are certain people who want these problems to drag on and on and on.
"If the extraordinary congress fails to hold my government will take strong action against the SLFA."
The SLFA vice-president Brima Mazola Kamara insists they will be adhering to Fifa's request and are going to submit the draft versions of the two documents very soon.
"We're working on the draft, it's now with the SLFA lawyers and once they're finished with it we'll send it to Fifa hopefully in few days time," Kamara told BBC Sport.
"The dates we sent to Fifa for the extraordinary congress were proposed dates, and it was left with Fifa to approve based on the road map.
"We were ready to organise it as we've made arrangements to host it in Bo city but we have to accept Fifa's decision."
Convening an extraordinary congress to adopt the new statutes is part of a road map set out by Fifa last year to pave way for an elective congress to usher in new SLFA executive committee.
The term of office of the current SLFA president Isha Johansen ended last August but her mandate was extended by Fifa until election is held in line with the road map.