Russell Martin: Ex-Norwich City captain training with under-23 squad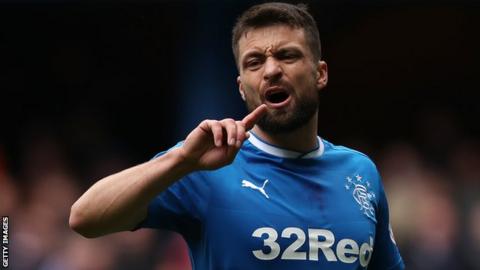 Former Norwich City captain Russell Martin is training with the club's under-23 side, as head coach Daniel Farke looks to send him out on loan.
The Scotland centre-back, 32, has made 309 appearances for the Canaries since initially joining on loan in 2009.
He spent the second half of last season at Rangers, playing 17 times, and has a year left on his Norwich contract.
"I'm full of respect for his career and I think it's the right way to do it, in an honest way," Farke told BBC Norfolk.
"I think when you have an experienced player either you back him and give him big responsibility for the team or you have to be clear-cut, and that's what we did."
Former Wycombe and Peterborough defender Martin, who has won 29 international caps, fell out of favour at Carrow Road after playing the first seven matches of the 2017-18 campaign.
"When you have such a club legend with such a great career either there is a possibility to back him against all odds and support him in each and every situation, or, the second way is to do without him," Farke said.
"We have this decision to send him on loan and to do without him. I think it's the best decision to do it like this because Russell is not a player who can sometimes be in the team and sometimes not."