Alisson: Liverpool's world-record signing from Roma is 'goalkeeper of the future'
By James Horncastle
European football writer
Last updated on .From the section European Football480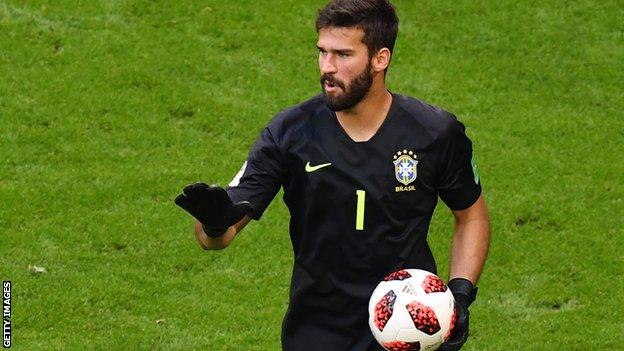 It has stood for 17 years. But the 53m euros (£32.6m) Juventus paid Parma for Gianluigi Buffon in 2001 is no longer a world record fee for a goalkeeper.
Implicit in the length of time it lasted is the confidence Juventus had in Buffon becoming an all-time great. A once-in-a-lifetime talent. But as the game grew richer and richer, the longevity of the record has been the cause of some surprise.
If anything, it symbolised the enduring undervaluation of the goalkeeping position. Undervalued it is no more.
Liverpool's decision to invest up to 75m euros (£66.8m) in Alisson looks an expensive one, because it goes against the conventional wisdom. This is the kind of money clubs are supposed to invest in goalscorers. Not goalkeepers.
But, judging by Alisson's performances for Roma last season, it seems entirely fair. The Brazil international wasn't just considered the best player in his position in Serie A, but the best in any position, such was his influence on Roma's play and results.
Alisson didn't just stop goals. He set them up. He played defence-splitting passes, inch-perfect long balls, completed more dribbles than a whole host of outfield players, and embarrassed opposition strikers with backheels under pressure and a 'sombrero' against Crotone.
At no point did Alisson's tricks cause a quick intake of breath or create a sense of panic. His actions were not frivolous. They were essential. The right decision under the circumstances.
Watch Alisson perform any of the skills listed above and you will not see a showman with a professional death wish, but a self-assured goalkeeper who has earned the complete trust of his team. "He's the goalkeeper of the future," Roma manager Eusebio di Francesco said. The evolution of the species in his position.
At least that is how Alisson is perceived in Serie A, where he distinguished himself as the most convincing interpreter of the sweeper-keeper role Italy has seen since Manuel Neuer made that style the benchmark by which goalkeepers are now judged.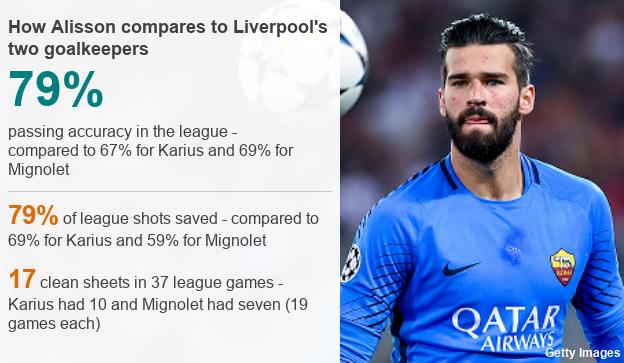 Alisson rushed off his line and cleared the ball 41 times this season. To put that into perspective, the next best goalkeeper in Italy when it comes to sweeping was Pepe Reina - he managed 20. Alisson proved crucial in enabling Roma to play with an aggressive high line in defence.
For all the attributes that mark Alisson out as a thoroughly modern goalkeeper, it is the old-fashioned stuff that makes him a traditionalist's favourite as well. Tall and broad shouldered, he has an imposing frame and can seem like a magnet for the ball.
Alisson made 109 saves last season and was the only goalkeeper in Serie A with a shots saved percentage of 79% or higher. Limit that to attempts inside the box and his record is the best in Italy over the past five years.
More impressively, Opta's advance metrics show that given the quality of chances Alisson faced, the average goalkeeper would have conceded 36.31 goals. Alisson is no ordinary goalkeeper. He allowed just 28; a difference of eight, the biggest in Serie A.
As Roma and Edin Dzeko did not score as freely as they had done the previous season, his interventions assumed greater significance. Some were jaw-dropping.
Alisson's first Champions League game of the season set the tone for the rest of the campaign. Roma were out-played by Atletico Madrid but held out for a 0-0 draw thanks to a goalkeeper who made nine saves.
In October, he had to tell the pundits in the Sky Italia studio to leave the comparisons with Gordon Banks alone. Adam Masina, now of Watford, thought he had scored for Bologna, just as Pele believed he had netted for Brazil against England at the 1970 World Cup. But Alisson was able to dive and flick the ball up and over, stopping a certain goal.
Roma goalkeeping coach Marco Savorani deserves a great share of the credit in the blossoming of Alisson.
Savorani was also behind Wojciech Szczesny's progression. The former Arsenal goalkeeper came on leaps and bounds under his guidance, so much so that Juventus chose him to be Buffon's successor.
"He makes everything look easy," Savorani has said about Alisson. "He reads the game. He keeps very cool. Over the last 18 months he has refined his technique a lot. He's a champion with a capital C."
A bargain for the 8m euros (£6.7m) Roma paid Brazil's Internacional for him, Alisson will be one of the most profitable deals in the club's history, a parting gift from Walter Sabatini, Monchi's predecessor as sporting director.
Not that Roma fans are overly pleased with the idea of losing another star in the same summer as Radja Nainggolan's departure to Inter. That said, 11 new signings have come in and the bitterness is lessened by the confidence in Monchi and the process he started last year.
Roma did not need the money after a run to the Champions League semi-finals and the sponsorship it attracted, which helped free them from their Financial Fair Play settlement agreement with Uefa.
But when someone is willing to pay 22m euros (£19.6m) more than the existing record for a goalkeeper and can offer a salary outside the limits of your wage structure it is hard to turn them down.
At least this summer Roma benefit from the inflation the Neymar transfer provoked, which contributed to making the sale of Mohamed Salah look cheap when they sold him to Liverpool for £34m in 2017.
Liverpool can be confident Alisson will make as big an impact relative to his position as their last signing from the Eternal City.
A top-class goalkeeper was the missing piece in Jurgen Klopp's Anfield puzzle. But in Alisson, Liverpool look to have found it.