Rangers: Chairman Dave King says his legal disputes have no bearing on club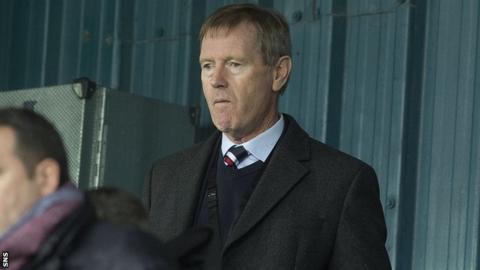 Rangers chairman Dave King says his ongoing legal disputes will have no financial impact on the club.
King's battle with the Takeover Panel will once again be played out at the Court of Session on Friday.
The panel is seeking a contempt of court order after the South Africa-based businessman failed to make an offer for remaining club shares.
"Fortunately, it does not affect the operations of the football club," King said in a wide-ranging statement.
King was ordered to make an offer to buy remaining club shares after being found to be working in concert with others to gain control of the club 2015.
What he described as the "strange decision" by the Takeover Panel "has now caused further unnecessary delay, with no end in sight" to the dispute.
"Litigation with the TP is another unwanted personal and financial cost to me," he said, revealing that the legal battles meant that "I have devoted far more time to Rangers than to my other business interests".
"This was necessary because those who benefited from the previous regime adopted every legal strategy to avoid losing the vice like grip they had on our club."
'My fellow directors and I have endured personal attacks'
King is also involved in a fresh legal dispute with Sports Direct over the club's retail operation.
"My fellow directors and I have all had to endure personal attacks and we all spend far more time dealing with Rangers interests than any of us truly expected," he said.
"But we did it willingly and continue to do so for no financial gain. Those that wished our club to fail have failed themselves and we will continue to progress despite inevitable set-backs that will come our way from time to time."
King pointed out that additional investment had to be found for the upgrading of facilities at Ibrox Stadium and their training centre that "were much more dilapidated than we had initially anticipated".
'We will back Gerrard - a winner is a winner'
Sacking two managers - Pedro Caixinha and Graeme Murty - last season had also "been costly in terms of severance packages and the cost of bringing in new players to support each new manager".
However, he expressed his delight that Rangers had resisted what he described as constant pressure to make a quick appointment before eventually securing Steven Gerrard from Liverpool.
"We had many candidates with managerial experience, but the experience was not necessarily successful or of the standard that we felt we needed," King added.
"We ultimately appointed a man whose football pedigree, knowledge, character and winning mentality is unquestioned and we will back him while he gains management experience. A winner is a winner."