Doctors thought I would die - now I'm playing for Northern Ireland
By Mark Sterling
BBC Sport NI
Last updated on .From the section Disability Sport
He came within minutes of losing his life in a horrific accident - but eight years on, Paul Cassidy is about to represent Northern Ireland at a major football tournament.
The 29-year-old is part of Mal Donaghy's 14-man squad that will travel to the Netherlands on Friday to take part in the 2018 Cerebral Palsy European Championships.
It's the latest stage in a remarkable journey for the Belfast man, who fractured his skull when he fell from a garage roof while cleaning the windows of a neighbour's house during the summer of 2010.
He was placed in an induced coma and it was only when he awoke a week later, that he realised just how close to death he came.
"My neighbour found me lying in a pool of blood and I was rushed to hospital with a fractured skull," explained Paul, who works for the Housing Executive and has a seven-year-old son.
"When I woke up, the doctors told me I only had 25 minutes to survive when I first arrived at the hospital.
"My parents were told to expect the worst as the swelling in my brain had made parts of my body close down.
"Somehow, I pulled through. I knew I would never be the same person again, but decided then that I would never give up on anything."
'I couldn't put bread in the toaster'
When told by doctors he may never walk again, never mind play football, Paul was naturally distraught.
"I couldn't walk initially. My left-hand side was so sore I couldn't even put a slice of bread in the toaster," he said.
"I just broke down and thought: 'Is this me?'
However, for the man who played for Donegal Celtic's reserves before his accident, there was a determination to return to the pitch.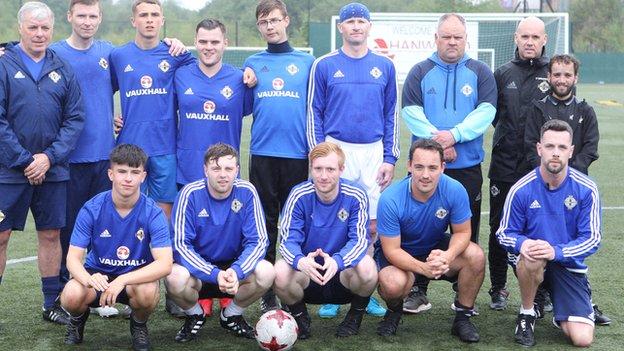 Within two-and-a-half years of his brush with death, the centre-half was back playing the game he had enjoyed since childhood, with his brain injury qualifying him to play for the Northern Ireland cerebral palsy team.
"The rehabilitation was so, so difficult but I was determined my accident would not be a barrier," he said.
"I knew the work I did in the early stages would be vital, so I was doing two or three physio sessions every day.
"I'm so grateful to the Irish FA for providing me with a second chance to get back playing - it was a fantastic feeling to pull the boots on again.
"I also have to thank the Housing Executive, who have been so good in allowing me time off to prepare for and go to the Euros."
Cerebral palsy football: what's different?
Cerebral palsy is a group of permanent movement disorders which are caused either by abnormal development or damage to parts of the brain that control movement.
For those who are not familiar with cerebral palsy football, the key differences to the regular format of the game are in scale.
The teams are seven-a-side, the games are half-an-hour each way and the pitches and nets are smaller.
There are no offsides and players have the option to take underarm throw-ins.
"But there is no difference in terms of how competitive the games are," Paul insisted.
"I'd urge anyone to Google a Northern Ireland cerebral palsy match and you'll see how intense the games are - it's end-to-end stuff."
And what adjustments to his game has Paul, a centre-half who has also played in goal for the international side, had to make since the accident?
"I'm not as mobile and my awareness of other players isn't the same, but I've learnt how to adapt my game."
Looking ahead to the Euros
Ten countries qualified for the 2018 IFCPF (International Federation of Cerebral Palsy Football) European Championships, which will take place in Zeist from 25 July until 5 August.
Northern Ireland, ranked 13th in the world, play Germany in their opening game on 27 July, with the Republic of Ireland, Denmark and top seeds the Netherlands also in their group.
Two from each group go through to the semi-finals, with further play-offs for overall placings.
"It's the youngest side we've brought to a tournament and we are going in as underdogs," said Paul, who also played for Northern Ireland in the 2017 Cerebral Palsy World Cup.
"Countries like Germany and the Netherlands have more funding than we will ever have, but we have a chance of getting out of the group."
The importance of disability football
As disability football manager at the Irish FA, Alan Crooks oversees all Northern Ireland disability football teams and is travelling with the squad.
"The players have been training every fortnight which allows us to get to know the players well," he said.
"For a country of our size to be ranked 13th in the world is a great achievement for the players and coaches.
"Paul is one of three players with acquired brain injury in our squad and each one of them has a breathtaking story of recovery."