BBC Sport NI signs new three-year deal with Super Cup NI youth football tournament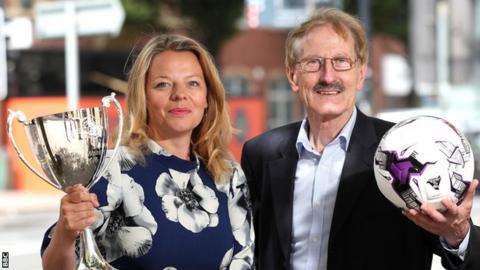 BBC Sport NI will continue to bring coverage of one of the world's most prestigious youth football tournaments to a global audience after agreeing a new three-year deal with Super Cup NI.
The annual tournament attracts clubs from across the world and from around Northern Ireland.
The new multi-platform deal kicks off with live coverage of the showpiece U-19 challenge game between Manchester United and Celtic on Saturday 21 July.
There will be 16 live games in total.
This will include a host of Premier section matches, along with the Premier and Junior Section finals on Friday 27 July streamed live on the BBC Sport NI website bbc.co.uk/sportni and on the BBC Sport App (via the 'Live Guide' tab).
As well as the live games, there will also be highlights of games in the Junior Section.
Jane Tohill, Executive Producer BBC Sport NI said: "We have a wonderful tradition with this tournament and the organisers and it's great to have this new three-year deal in place.
"With interest in the Fifa World Cup having reached fever pitch this summer, it's a great opportunity for fans to see some of tomorrow's superstars in action on our Super Cup NI coverage.
"Once again the tournament welcomes teams from home alongside Premiership clubs in England and Scotland and representatives from all over the world including Japan, Mexico, Russia and the USA.
"Our multi-platform coverage will allow us to bring action from the tournament to a global audience - from here in the UK to fans across the world following their team."
Tournament Chairman, Victor Leonard, commented: "We are delighted to have BBC Northern Ireland as our media partner for the next three years. The support we have received from the BBC during our previous partnerships has proved to be invaluable to us.
"Sixteen games over this year's Super Cup NI will attract a worldwide audience on the BBC's various platforms. And in this Fifa World Cup year, it's wonderful to see that there were 27 tournament graduates, as we call them, in the squads who took part in Russia."