Zlatan Ibrahimovic on Pogba, Rooney, leaving Man Utd and that debut goal for LA Galaxy
By Simon Stone
BBC Sport in Los Angeles
Last updated on .From the section Football96
Manchester United's World Cup winner Paul Pogba can be "above the stars" and on a level with Cristiano Ronaldo and Lionel Messi, says former Old Trafford team-mate Zlatan Ibrahimovic.
Ibrahimovic, 36, joined LA Galaxy in March 2018 after 20 months at United.
In an interview with BBC Sport, the former Barcelona, Ajax, AC Milan, Juventus and Inter Milan striker also discusses how knee surgery almost ended his career, and why he left United.
And the Swede has advice for Wayne Rooney, who recently joined DC United.
'What more do you want from Pogba?'
Pogba scored in the final as France beat Croatia 4-2 to win the World Cup on Sunday.
The 25-year-old midfielder rejoined United for a then world record £89m in August 2016, but has been criticised by pundits and manager Jose Mourinho and fell out of favour at times during the 2017-18 campaign.
"I think you have the players that are above the stars," Ibrahimovic told BBC Sport's Simon Stone in Los Angeles. "I don't find him there yet. He is a fantastic player and can become the one above the stars.
"He has more to give. He can develop. He can do more. But he is still young."
Pogba won four Italian league titles at Juventus and lost the 2015 Champions League final to Barcelona, before moving back to Old Trafford, where he has won the Europa League and League Cup.
"He won probably more on the big stage than the people who are judging him," added Ibrahimovic.
"We should not forget Paul has played in a Champions League final. A European final with the national team. He just won the World Cup. Europa League final. He won many titles in Italy. He won a couple with United. He won many trophies as a youth also. What more do you want?"
'They had a Zlatan before, I was not ready to be that Zlatan'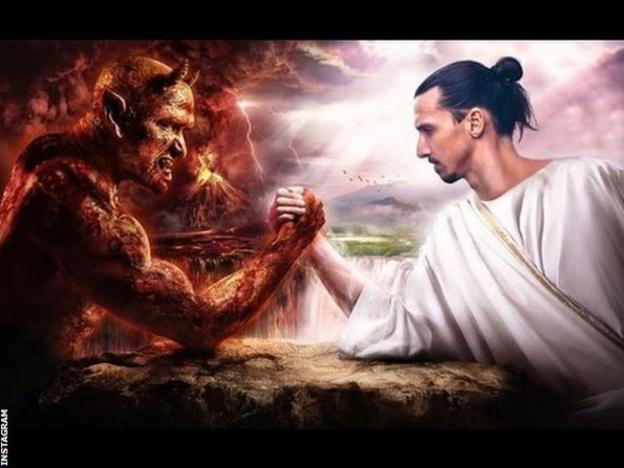 Ibrahimovic made 46 appearances and scored 28 goals in his first season with United, but then suffered cruciate knee-ligament damage in a Europa League match in April 2017.
"Every time I put on my football shoes, I am enjoying the moment because after the bad injury I had there were not many hopes I could play again," he said.
The Premier League club released him in June 2017, before re-signing him in August, and he made his comeback in December.
"The situation was not about having a contract and earning money," says Ibrahimovic. "It was all the opposite. I said I don't want a salary, you keep it."
But after scoring one goal in seven games he was allowed to join LA Galaxy, United terminating his contract.
And he admits he was not ready to make his United comeback so soon, adding: "The mind can be ready but the knee was not ready."
"When I was ready, I said to myself 'I am not there'," he said. "They had a Zlatan before. After, I was not ready to be that Zlatan.
"I was selected in many of the games but I told the coach: 'Listen, I am not ready. I don't want to disappoint you. The respect I have for my team-mates and the coach. Select someone else who can do the job better.' I stood up and did it, even if I am Zlatan."
Rooney and that debut Galaxy goal
Ibrahimovic played alongside former England captain Rooney for a season, before the 32-year-old rejoined Everton.
Rooney left the Toffees in June and signed a three-and-a-half-year contract with Major League Soccer side DC United.
"He will see the game in a different way," said Ibrahimovic. "He still has a lot to give. The market in the US is perfect for him, just like it was for me. Then it is up to him.
"Rooney should be Rooney. Continue what he has been doing and what he is good at. He will settle in perfectly and they will enjoy his game."

Ibrahimovic announced his own arrival in MLS with a full-page advert in the Los Angeles Times, saying: "Dear Los Angeles, you're welcome."
He then marked his LA Galaxy debut in March with a match-winning cameo.
Having arrived the day before the game, he was suffering from jet lag and says he did not know how his knee would be, telling everyone: "We will have to find out."
Coming on with the team 3-0 down, he scored with a remarkable equaliser from 35 yards before heading a stoppage-time winner.
Describing his first goal, he said: "I knew immediately, this is going in. You know when you get a good hit. When it went in, the whole stadium was crazy.
"I was feeling I was alive again after a long time doing this recovery. I had been injured but I was there, doing what I love. I am doing it in my way, that I have been doing all my career.
"I could not describe the moment," he added. "All that eight months for that 20 minutes was worth it."