Is playing in Germany the future for the brightest young English players?
Last updated on .From the section European Football141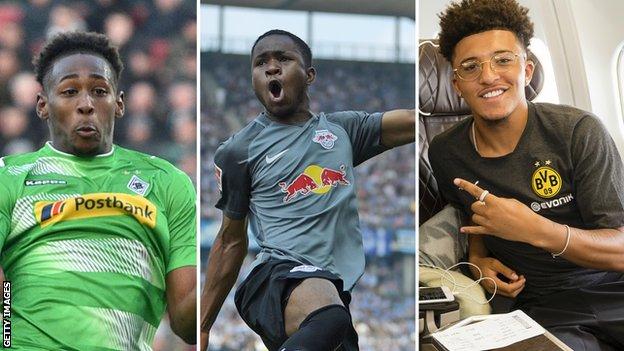 If you're a teenager courted by Premier League clubs, why would you choose to play in Germany for a side who you had never heard of - and for less money?
A crazy idea? It is becoming more common for young players in the English game. And there is a possibility that England could benefit.
Gareth Southgate's side went way beyond most fans' expectations by reaching the World Cup semi-finals in Russia.
Southgate was honest enough to concede that England cannot yet be regarded as a top-four team, they were 22 minutes away from their first tournament final in 52 years.
In order to make that last step, those in the senior set-up - and, crucially, those coming up behind - must get the playing time to develop and fulfil their promise.
That is not easy in the Premier League, where overseas players are responsible for 66% of the overall minutes played.
So is it possible a partial solution can be found in the Bundesliga? Could Germany help their old rivals England towards the summit of world football?
Sancho and co's German adventure
Coming with a £10m price tag and the number seven shirt, Jadon Sancho's move from Manchester City to Borussia Dortmund was big news 12 months ago.
The 18-year-old member of England's Under-17 World Cup winning squad wasn't the only young Englishman in Germany, though.
They all made the move to play more meaningful games than they expected to get in England.
Young Lions in Germany 2017-18

Player

Left

Joined

2017-18 Bundesliga appearances

Career Bundesliga minutes

Goals

Career PL minutes

Jadon Sancho

Manchester City

Borussia Dortmund

12

685

1

0

Ademola Lookman

Everton

RB Leipzig (loan)

11

575

5

441

Reece Oxford

West Ham

Monchengladbach (loan)

7

463

0

215

Mandela Egbo

Crystal Palace

Monchengladbach (in 2015)

1

10

0

0

Ryan Kent

Liverpool

Freiburg (loan)

6

241

0

0

Kaylen Hinds

Arsenal

Wolfsburg

1

90

0

0

Kevin Danso

MK Dons

Augsburg (in 2014)

16

1720

2

0
Battling the Premier league odds
It is impossible to know how many games these young English players would have played had they remained where they were, or moved elsewhere in England.
Yet many of those who nurture youngsters distrust the English system, which is awash with Premier League TV money and encourages short-term fixes rather than long-term development.
Kevin Danso was born in Austria to Ghanaian parents, who moved to Milton Keynes when he was six. At nine, he joined the MK Dons academy. By the age of 15, a number of Premier League clubs were keen to sign him.
Manny Danso, the player's older brother, looks after his affairs - and was unsure if the Premier League was the right way to go.
He said: "We wanted to know what the educational aspect was. One club wanted him to do a BTEC. I wanted him to do A-levels.
"The problem is not new. Even if you are working to an average of one player coming through the academy system at each club per year, there is no guarantee it is going to be from your age group.
"At a minimum, clubs look at players across a three-year cycle. More realistic is five. The odds of breaking through are exceptionally small."
That 'crazy' Augsburg idea
Faced with such odds, Manny Danso spent eight months in Germany analysing the approach of different clubs in terms of youth development.
Armed with all his research, he told his nephew that Augsburg was the best fit in all aspects but one.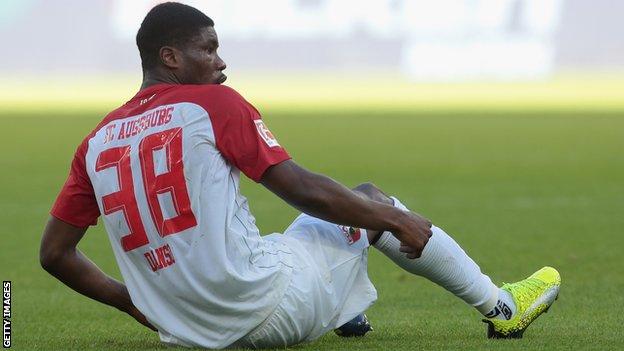 Manny Danso said: "It was by far the worst financial package we were offered.
"Kevin said: 'Where is Augsburg?' He had to go on Fifa to see what the kit looked like. My mum thought it was a crazy idea.
"But he went over for two weeks. He has now been there four years. The decision has been totally vindicated."
In March 2017, aged 18 years and 165 days, Danso became the youngest player to play for Augsburg in the league. Against Wales the following September, he won his first full cap for Austria.
Attracted by the money
This trend has been noticed by the German football hierarchy, who feel TV riches have triggered a change in mentality at the top end of the English game.
Joti Chatzialexiou, director of sports at the German Football Association (DFB), thinks there can be a gain for Bundesliga clubs.
He said: "The high wages are attractive to the world-class players who go into the Premier League from abroad.
"But it is the same also for more average foreign players of about 23 or 24 who are further along in their development than the younger English players.
"It's an attractive prospect for some of those young players to leave England in order to gain experience by playing in another high-quality league. German clubs are always interested in talented players who could later develop into valuable assets."
Not everything is rosy in the German garden
Germany suffered a humiliating World Cup, going out in the first round for the first time since 1938.
A month before that debacle, their youngsters were eliminated from the European Under-17 Championships in the opening phase too, following heavy defeats by Spain and the Netherlands, who went on to win the competition.
Those shocks may well trigger substantial change in Germany's football culture - with more of an emphasis on homegrown talent.
Chatzialexiou said: "Things currently seem better from the outside than we consider them to be ourselves.
"There has been a new development recently across Europe where young foreign players of between 16 and 18 years are brought in cheaply and developed, before ultimately being sold on for a profit.
"We are critical of that approach in Germany, as talented young foreign players are getting game time at a crucial stage in the players' development, while the German players sit on the bench.
"There are other European countries who are doing a better job with their younger age groups. Our job is to put this right in the not too distant future."