World Cup qualifier: England match 'an opportunity of a lifetime'
Last updated on .From the section Women's Football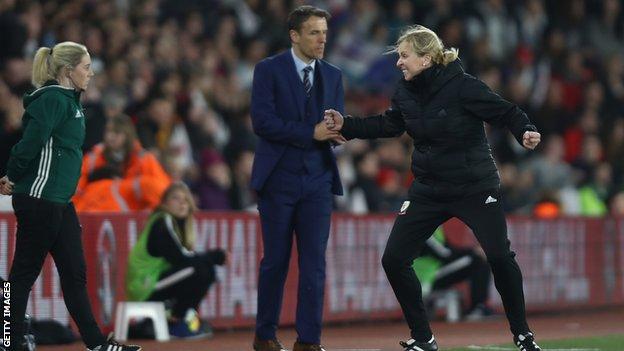 Wales manager Jayne Ludlow says the World Cup qualifier with England next month presents her squad with the "opportunity of a lifetime."
A win would guarantee Wales a place at the 2019 World Cup in France next June.
Ludlow also says Wales are determined to prove Prime Minister Theresa May wrong after she said she would fly an English flag during the tournament.
"We would like to think that she will be putting up a different flag when the tournament starts," Ludlow joked.
Wales face Phil Neville's Lionesses on 31 August at a sold out Rodney Parade in Newport.
Ludlow admits it is impossible to overhype the importance of the match as Wales seek a first World Cup appearance since 1958.
"We are really looking forward to it; we have plenty of prep time which is great because there is a lot of work to do," she told BBC Sport Wales.
"It is a game we thrive on, because this is an opportunity of a lifetime for some of these players.
"We are really, really excited about it."
Ludlow believes Wales' success in the campaign has contributed to some eye-catching moves for her players this summer.
Skipper Sophie Ingle has joined Chelsea, Kayleigh Green moved to Brighton and Rhiannon Roberts has signed for Liverpool.
"The girls have worked extremely hard and thankfully are getting the benefits of that on a personal level in terms of becoming full time professionals," Ludlow said.
"We want them to challenge themselves further because the more they do that, the better for the international team as they will come back to us as better and more experienced players.
"I would like to think (Wales' impressive campaign has been a factor) but I go back to the players themselves, they have to commit to this programme, we set targets for them, we have a value system and they uphold it and work hard. They should be enjoying this journey."
Ludlow laughed off comments made by the Prime Minister in PMQs where Theresa May she said she would fly the England flag over number 10 during the Women's World Cup.
"I didn't hear Theresa May's comments but I did hear them second hand because some of the group were talking about it," she explained.
"The comments were taken in jest to be fair, it as a very high profile leader who has made a slight error there, that is how we are looking at it, it is quite comical really.
"We would like to think that she will be putting up a different flag when the tournament starts."
Ludlow also says it is too early in discussions for her to express a view on the potential of Wales players being involved in a Team GB side at the next Olympic Games in Tokyo.
The Football Association have said they are 'confident' a GB side will compete, while Wales captain Ingle said she would be keen to be involved, but Ludlow says she has yet to discuss it with the Football Association of Wales [FAW].
"Where I sit with Team GB is that I have no information, we've not had any discussions regarding this over the last weeks or months," Ludlow said.
"So for me it is a conversation that is starting that actually we know nothing about it.
"When we talk about our players making comments about these opportunities that may arise, at the end of the day we are talking about top level players wanting to compete at the top level, that is what that is all about.
"With regards to what happens in the future, it will not be my choice; there are far higher people in different Associations who will make that decision.
"But right now I have not spoken to Jonathan Ford [FAW chief executive] about it."