Rangers say Scottish FA should drop licence case after legal ruling
Last updated on .From the section Rangers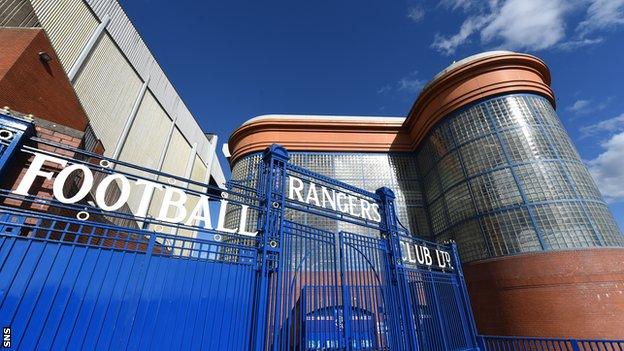 Rangers have urged the Scottish FA to drop a case against the club for breach of Uefa regulations after successfully challenging the governing body's right to rule on the matter.
The club refused to accept a notice of complaint issued in May by the Scottish FA compliance officer.
Rangers' legal team has successfully argued that it must be dealt with by the Court of Arbitration for Sport.
They said they have "always been clear about the futility of this action".
The Scottish Premiership club added that they hope the Scottish FA will now "put the matter to bed and agree to move on and concentrate on the development of Scottish football in the interests of all members of the SFA".
Earlier on Thursday, the Scottish FA said it must consider whether to continue to pursue the matter with the Swiss-based court.
What is the case about?
The dispute revolves around an agreement between Scotland's governing bodies and the club's representatives that allowed Rangers to continue playing following their financial collapse in 2012.
The Scottish FA compliance officer raised two charges claiming an alleged breach of rules over the granting of a Uefa licence between 2010 and 2012.
These were based on the principles of sportsmanship and "behaving towards the Scottish FA and other members with the utmost good faith".
Uefa rules state that clubs should have no outstanding payables to tax authorities and there are claims and counter claims around whether this was the case with Rangers.