Super Cup NI: Spartak Moscow pull out of tournament after visa delay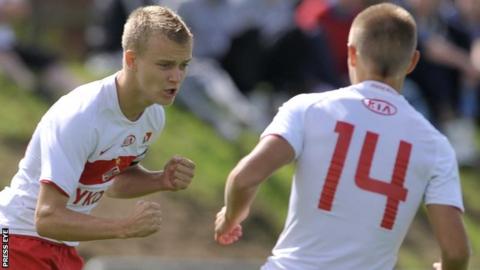 Spartak Moscow have withdrawn from the Super Cup NI because of a delay in processing visa applications.
The Russian club's representatives in the Premier section have failed to make it despite protracted negotiations with the authorities in Russia and London.
"We're disappointed that political questions can interfere with sporting and cultural events," said Spartak spokeswoman Ekaterina Anisimova.
Spartak won the Premier title in 2006 and are regulars at the Super Cup NI.
"They have disturbed communication and development of the progress and good will thinking," added Anisimova, the club's international relations manager.
Jim Sanford, public relations officer for the youth tournament, had been communicating with the Russian club for several weeks.
"This is a huge blow for the young players who had been looking forward to coming to Northern Ireland and competing in our event," he said.
"When Spartak began to raise doubts about the visa application process, we feared there could be major difficulties.
"We are grateful to local MP Gregory Campbell for his help in the matter. He tried his best for us including contacting the Foreign and Commonwealth Office in an attempt to resolves the issue."
Spartak's place in the tournament will be taken by a National Select of Northern Ireland players who were involved in trials with the six county sides at U17 level.
The competitive action in the Super Cup NI minor, junior and premier sections gets under way on Monday.
The teams will take part in an opening parade through Coleraine town centre on Sunday at 19:00 BST, with a welcome ceremony at the Showgrounds where former Northern Ireland international Gerry Armstrong will open the event.
The BBC Sport NI website will have live coverage of 13 games during the major youth tournament.