Stadium for Cornwall in jeopardy unless Truro City moved grounds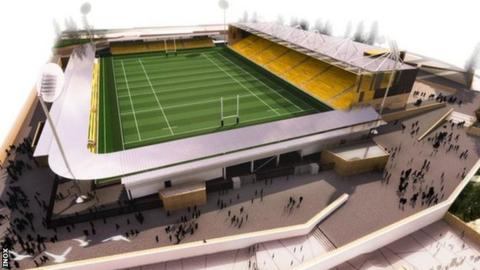 Truro City chairman Peter Masters says the Stadium for Cornwall project will not happen unless the club leave Treyew Road by the end of July.
City will share with Torquay United this season, meaning a round trip of 200 miles for fans to see a home game.
Developers will put £2m towards the Stadium for Cornwall project once work on a supermarket starts at Treyew Road.
"I was given a scenario whereby if this doesn't happen there'll be no £2m and there will be no stadium," he said.
"I had to make that very tough decision to say we'll capitulate," Masters told BBC Radio Cornwall.
He says the developers want work to start in order to attract more retailers to site, with a Lidl supermarket due to be the first development completed.
The £2m will go towards the new stadium in Truro, although work has yet to start as the project still needs £3m of central government funding.
But Masters says the future of his club and the Cornish Pirates - who will share the Stadium for Cornwall - was in jeopardy if he did not take the decision to share with Torquay.
"Not only have you got Truro City at risk here, you've also got the Pirates at risk, because if this doesn't happen the Pirates would have to think very hard about where they're going and what they're doing, as we are," Masters continued.
"If this all goes wrong with the Stadium for Cornwall, have we a backstop? Yes, of course we have.
"But it will not mean us playing in National League South, it will mean taking a drop and that's something I don't want to do."