Leyton Orient: Club appeal for fans with male dogs to help rid fox problem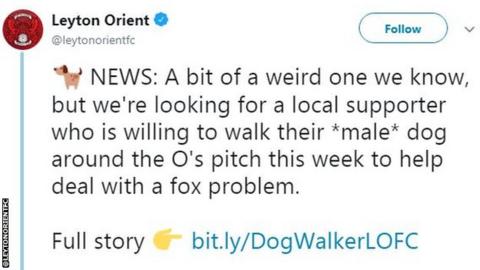 Leyton Orient are hoping fans with male dogs can help their bid to remove some unwanted 'foxes in the box'.
Foxes have been regularly spotted on National League Orient's Brisbane Road pitch in recent weeks.
Such is the problem, the club has issued an appeal to any fans who can walk their dog around the ground during mornings and late afternoons.
"It's thought a dog's presence will help prevent further pitch invasions," Orient said in a short statement.
Interested candidates should apply to the club's marketing department - and very advanced dogs can put their names forward themselves!