Glentoran: Assistant manager Gary Smyth wants three new signings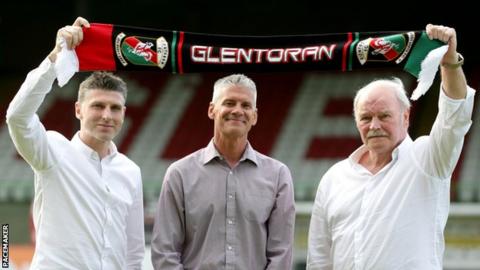 Gary Smyth believes Glentoran need to sign three new players before the transfer window closes.
The Glens assistant manager insisted the Oval outfit must be patient, despite not adding to their squad since the end of last season.
Smyth joined the Glentoran coaching team in May, with Ronnie McFall remaining as manager after he took over as caretaker boss in February.
"We're going to have to bide our time," Smyth told BBC Sport NI.
"By the time we took over the job a lot of the clubs already had their business done.
"Patience is key and we won't be panicking, even if it means going into the last week of the transfer window.
"We need to bring in at least three quality players because the squad just isn't big enough."
Searching for a higher quality player
While there have been no new arrivals at the Oval this summer, the Glens have released a large number of squad members since the end of last season.
Smyth explained that he and McFall have been searching hard for potential signings along with the other two members of the coaching team, former skipper Paul Leeman and Kieran Harding.
"There are no new signings imminent but I am hopeful that we will be able to get the players that we need in," the former H&W Welders boss explained.
"We have been talking to players and had a number of options, but it's important for us that the players who come in are better than those who have left.
"There's no point in bringing in players of the same standard. They have to of a higher quality and we need to get it right."
Top six is the minimum requirement
Smyth has enjoyed being back at the Oval in his new role after having a highly successful playing career with Glentoran.
He is happy with how pre-season training has gone and, looking ahead to the new Irish Premiership campaign, said a top six place is imperative for the Glens.
"The players have been working extremely hard, doing five sessions a week to prepare for the new season," Smyth added.
"It seems surreal that top six is an aim for a club the size of Glentoran, but we have to be realistic.
"To be fighting for a top six position seems ridiculous but it is a must. Then we will see what we can challenge for from there."
Smyth was announced as the new Glentoran assistant manager in May. Harding remains as joint assistant to McFall and club legend Leeman was given a role helping to develop the club's young talent.
The Glens begin their Irish Premiership campaign at home to Cliftonville on 4 August.