Reims sign veteran Togo star Alaixys Romao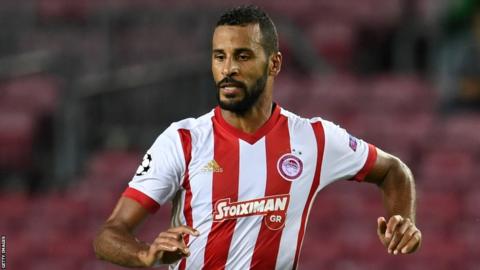 Newly-promoted French Ligue 1 side Reims have signed Togo's Alaixys Romao on a two-year deal from Greek club Olympiakos.
It is a return to his country of birth for the 34-year-old defensive midfielder after two years in Greece, following spells at Grenoble, Lorient and Marseille.
Romao has called up on the club's fans to continue the support they showed in their promotion push.
"I followed what the club did last season, I saw the fan's backing - now we are in Ligue 1, there will surely be more difficult times and we will really need their support," he told the club's website.
"If we have less good periods and we see that the fans are behind and do not let go, it pushes us to make even more effort.
"We are ready to do the best for next season to be successful."
The veteran has been capped 57 times and played for his country at the 2006 World Cup as well as at four African Cup of Nations in 2006, 2010, 2013 and 2017.
He feels that both his experience and his actions on the pitch make him something of a leader.
"On the pitch I'm pretty aggressive and competitive, it's something the coach sees and the team-mates feel I think," he explained.
"I don't necessarily speak a lot but what I show on the field is indicative of my state of mind.
"You have to know how to say the right things at the right time and if the coaches put me as captain it's because they probably thought that I did it well."