Nashville in the MLS: How do you build a team from scratch?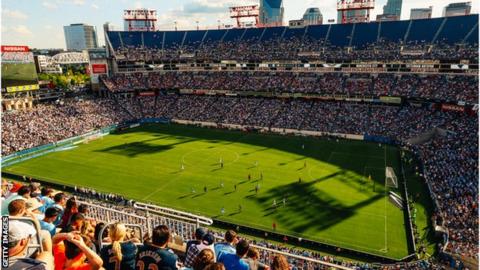 No manager, no players, no permanent stadium, no training ground, no offices or general infrastructure. And not even a team name.
It is alien to the fluid nature of English football that you could be given 20 months to create a team from scratch and have it ready to compete at the highest level of competition.
Yet filling in that "blank sheet of paper" is exactly what attracted former Liverpool chief executive Ian Ayre to a similar role at the 24th Major League Soccer franchise.
Nashville have to be at the starting gate by March 2020.
But, with so much to do, where do you start?
'A unique opportunity'
Led by billionaire US businessman John Ingram, Nashville won their expansion slot on 20 December 2017.
Ayre was appointed in May, although he did not move to the United States until early July.
The lifelong Liverpool fan spent 10 years at Anfield from 2007 - initially as commercial director, then managing director, then chief executive - before an unhappy few weeks at German club 1860 Munich.
He was immediately attracted to the potential of Nashville, home to the Tennessee Titans NFL franchise and Nashville Predators NHL outfit.
It has a team in the second-tier United Soccer League, but they were fully supportive of the Major League Soccer concept.
Ayre said: "This is a unique opportunity to create something from a blank sheet of paper.
"We are mixing together some very attractive raw ingredients: a great city, great sporting support and a sport that is going places in the USA.
"John Ingram is a very driven individual who shares my excitement at the fun and challenge and opportunity in front of us."
'Creating a DNA'
The automatic assumption would be that to start building a football team, you need a manager, players, or both.
But Ayre first wants to create an identity, just as Liverpool did during his time at Anfield.
He said: "When you are creating something from nothing, you have to create a DNA, then bring in people who fit. If you look at Liverpool manager Jurgen Klopp, culturally he was a brilliant fit for the club.
"For us, it means starting with scouting and analysis. By doing that we can begin to build a picture of the type of player we need in the timescale we are looking at."
Appointing a coach is "some way off", according to Ayre. Discussions have taken place internally, though, and he expects to be working seriously on a couple of names by the end of the year.
"It is a crucial appointment," he said. "And if you look at the shelf life of coaches in European football, it is one that so many people get wrong."
'We want something authentic'
The one significant certainty is that in their debut season, the team will play at the 69,000-capacity Nissan Stadium, home to the Titans.
Anyone fortunate to be among a 56,232 crowd for Tottenham's pre-season game against Manchester City in July 2017 knows the vibe 'soccer' can create around the ground is impressive.
Nashville's permanent home is intended to be at the Fairgrounds, but there is still some bureaucratic red tape to be cut before work on the site can begin.
By the time Nashville play there, Ayre and his team will have devised a squad-building strategy.
There are two obvious options: go for a few star names that let the world know you exist, as New York City FC did with Spain forward David Villa, England midfielder Frank Lampard and Italy playmaker Andrea Pirlo when they launched in 2015; or follow the model Ayre's fellow Englishman Darren Eales chose as president of Atlanta United in 2017.
Atlanta went for much younger, lesser known, South American players to supplement a US core.
NYCFC finished eighth in the Eastern Conference in that first season. Atlanta finished fourth and were eliminated in the first round of the play-offs.
Ayre said: "We want to create something authentic and we want players who are dedicated to the game.
"That doesn't rule out international players coming from other leagues but it rules out the journeyman player who thinks it is a swansong on decent money to finish their careers."
The German mistake
Ayre has plenty of work ahead of him, not much of it glamorous at this stage.
By his own admission, it is a position he did not anticipate finding himself in after a turbulent eight weeks at 1860 Munich came to an end with his resignation in May 2017.
And, after his experience in Germany, he made doubly sure every box was ticked before he moved his family to the US.
Ayre said: "I was attracted to Munich because - like Nashville - it was a transformational opportunity. The club had fallen from grace and, on the face of it, had an ownership group that wanted to take it back to the top."
What Ayre found was a fractured ownership group. Having experienced at first hand the destructiveness of the Tom Hicks-George Gillett era at Liverpool, the alarm bells started ringing.
He said: "With that level of discord and infighting, it simply was not going to be possible to deliver what had been asked of me. Rather than put myself in that position again, I took legal advice and was told to resign pretty quickly.
"It was hugely disappointing but just as I was thinking I wouldn't go back into a full-time football role, Nashville came along with something that was too good to turn down."
Still thinking of Liverpool
Ayre has been in touch with Liverpool owner John Henry and is in regular contact with other members of the Anfield hierarchy.
There is no direct competition between Nashville and the Fenway Sports Group, whose US interests revolve around baseball and the Nascar motorsport series.
Ayre was in Charlotte earlier this week to meet old friends around Liverpool's pre-season game with Borussia Dortmund.
Though his focus is on Nashville, he has high expectations for his old club.
He said: "It has taken time but, commercially, Liverpool is unrecognisable from what it was in 2007. The stadium solution is fantastic and over the last four or five years, it has put together a world-class squad, with a world-class manager.
"Winning has got harder but, for Liverpool, the ability to compete has got better.
"Last season was a huge step forward. As a fan, I have big expectations for next season and beyond. They are going to be very difficult to stop now."