Financial Fair Play: QPR's £42m settlement 'no disincentive' for EFL club spending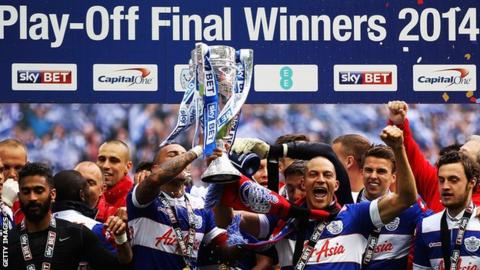 QPR's £42m settlement with the English Football League for breaking Financial Fair Play rules will not deter other clubs from spending big in pursuit of Premier League riches, according to two football finance experts.
The settlement includes a £17m fine, paying £3m of the EFL's legal costs and the agreement from club shareholders to write off £22m of outstanding loans.
Kieran Maguire, a lecturer in football finance at the University of Liverpool, and Dr Rob Wilson, a sport finance specialist at Sheffield Hallam University, both said the fine could have been bigger.
"QPR have earned £148m in broadcasting fees and parachute payments since committing the offence so the fine does not act as a disincentive for clubs in the future," said Maguire.
"The owners made the decision to go ahead with ignoring the FFP rules in the first place and they are independently wealthy to absorb the true penalty, which should have been at least twice the sum charged."
Maguire added that having shareholders agree to turn £21.965m of outstanding loans into capital "is merely an accounting housekeeping issue".
The EFL declined to comment when contacted by BBC Sport.
Rangers are controlled by co-chairmen Tony Fernandes and Ruben Gnanalingam, with Kamarudin Bin Meranun and the family of Indian steel magnate Lakshmi Mittal also holding stakes.
Wilson said the fine and settlement is "more severe" than any faced by sides in the past - but "does not go far enough to put clubs off" overspending in pursuit of promotion.
QPR's deal comes in the same month that Bournemouth reached a £4.75m settlement of their own with the EFL, having originally been expected to pay a fine of £7.5m for breaking rules when they won promotion in 2014-15.
Earlier this year Leicester City faced a £3.1m settlement having broken spending rules to win promotion in 2013-14. Two years later, they won the Premier League title and in the three seasons after winning promotion made a combined pre-tax profit of £52m.
"The rewards are so great in the Premier League, so you would expect the fine to be a bit more substantial," said Wilson.
"But it is difficult - there is a point where you may push too far and there may be more legal challenges or the club will go to the wall, and no-one wants to see that.
"It's a balanced verdict in many ways.
"This fine makes a big statement, but it could have been even bigger to stop people doing it completely."