Adebayo Akinfenwa: Wycombe striker on the 'old brigade' and life after football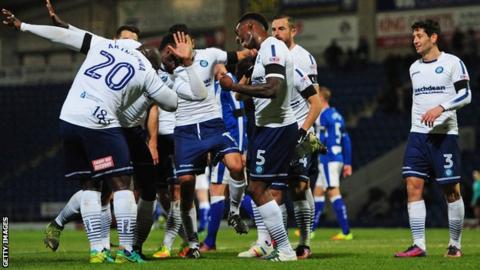 "In football there's a thing where some managers want everybody to be the same, like robots."
In a sport always finding new ways to become even more professional, there could perhaps be a risk of losing some of the so-called characters in the game.
But with a player like Adebayo Akinfenwa, at a club like Wycombe Wanderers, under a manager like Gareth Ainsworth, it seems being a bit different is not just tolerated - but encouraged.
BBC Sport visits the newly promoted League One club likely to proudly be the oldest squad in the English Football League this season, led by 'The Beast'.
Size does not matter
For much of his career Akinfenwa has gained attention for his body shape, at 5ft 11in (180cm) and weighing in at about 16 stone (102kg).
However, a haul of 18 goals last season earned him a place in the League Two team of the year - as well as a nomination for the division's player of the year - so does he feel he is now being respected for his football ability?
"It used to get my back up because people would only say 'he does well for his size' and it's like, forget the size, I do well because I do well," Akinfenwa said.
"The size is secondary, but do I think that now I'm getting the acknowledgement for my football? I do think people have started to see past the initial hysteria."
The 2017-18 campaign was by no means a one-off for the former Northampton, Swansea and AFC Wimbledon man, who has scored 10 goals or more in nine of the past 10 seasons.
He is yet to reach 20 in a single season but, on 196 career goals, another milestone is at the forefront of his mind.
"I'm hitting 200, I'll tell you that now. I'm going to get 200, by the grace of God."
Welcome to the jungle?
At 36, Akinfenwa has crept into the autumn of his career on the pitch but has a clothing brand and social media following which could stand him in good stead for life after football.
He is coy about exactly how he will fill his time but is not ruling anything out.
"I don't care what anybody says, you can't beat time so I know that my time's coming to an end," he told BBC Sport.
"I've got a couple of acting things coming - there's no lid on this box and it's so exciting to know what's to come."
He praises Ainsworth, who he describes as a "new-age manager", for occasionally giving him time off training to pursue other ventures alongside his main profession.
But does his boss watch much of Akinfenwa's work, which is so popular online?
"Absolutely not," laughed Ainsworth. "I get stopped in the street and they say 'did you see Akinfenwa recreating World Cup goals?'
"I'll be totally honest, I haven't watched one of them. All I care about is his Wycombe goals - he has his world.
"He's such an infectious character. Seeing him in the jungle (I'm A Celebrity), the Big Brother house or something like that, I think he'd absolutely clean up."
'I call us the old brigade'
The average age of Wycombe's starting line-ups in 2017-18 was more than 29, making them the oldest side in League Two, with only West Brom and Derby having a higher average in the top four divisions.
Matt Bloomfield (34), Craig Mackail-Smith (34) and Nathan Tyson (36) are among the players in their 30s.
"I call my strike partners - especially 'C-Mac' and Tyson - the old brigade," Akinfenwa said.
"Sometimes we can just look at each other without saying anything and be like 'your back's hurting, my ankle's hurting', but we've got a beautiful balance."
A lack of any youth team or academy contributes to a more experienced set-up for the Chairboys, but Ainsworth played until two weeks shy of his 40th birthday and believes that has influenced him as a manager.
"I've got this belief in my players because I went through it, I did it myself and people believed in me, so I'm going to believe in them," he said.
"At the moment my eyes are saying that Akinfenwa, Mackail-Smith, Bloomfield, Adam El-Abd - they still can and will play under me because I don't look at the number next to their birth certificate, I look at the numbers they get on the pitch."
'Bayo' - the man
Away from the bench-pressing, bravado and bubbly character, what is Adebayo Akinfenwa actually like?
Midfielder Bloomfield has been at Adams Park for 15 years, so is a pretty good judge of what makes a Wycombe player on and off the field.
"I could not speak more highly of the man or the player, he's been absolutely brilliant and more than we ever hoped he would be when he signed.
"He's a larger than life character who just commands respect and adulation from anywhere we go, it's crazy.
"He's the most famous League Two footballer there's ever been, now League One obviously. He's been one of the most important signings this club has made in recent years."
Ainsworth was responsible for bringing Akinfenwa to Buckinghamshire after he was released by AFC Wimbledon in 2016 and has seen improvement in one of his clan of veterans.
"Bayo's a great ambassador for us - I'd like to say in the last two years he's come on even more with his football and his own personality.
"I've seen him do things with underprivileged kids, he signs every autograph, he's had talks with people who've had problems here and there, and people probably don't see that side of things."
The final word must fall to the self-proclaimed 'Beast', who accepts his fame - lapping it up at times - but insists he never asked for it.
"Of course I know I am not the average footballer. But I'd be lying if I said I set out to be different, I didn't set out to go against the grain.
"It shows people you haven't got to be a certain way that everybody says you've got to be."