Hamilton Academical: Club defend cannabis plant sponsorship decision
Last updated on .From the section Hamilton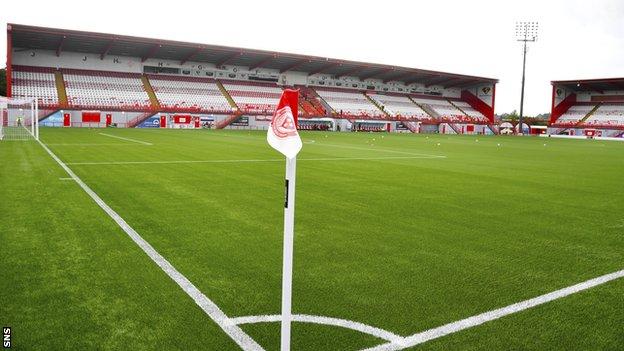 Hamilton Academical have defended their decision to rename their stadium after a company involved in the sale of cannabis-based products.
New Douglas Park will officially be known as the HopeCBD Stadium after the company paid the Scottish Premiership club a "five-figure sum".
The business - based at the ground - sells products containing cannabidiol, which is produced from cannabis plants.
The club say the deal is "within the ethos of Hamilton Academical".
They also say the products - which include oils, sprays, vapes, sweets and tea bags - are "100% non-psychoactive or addictive" and compare them to "alcohol-free lager".
On Thursday, the Westminster government announced that specialist doctors in the UK will be able to legally prescribe cannabis-derived medicinal products by the autumn.
"We are proud to be at the forefront of a positive and progressive partnership with CBD providers such as Hope CBD," a statement said on the Hamilton website.
"The very word 'cannabis' strikes the concerns of law breaking and addiction issues, but the facts surrounding CBD are much different.
"CBD is sold as a food supplement and no medical claims can be made. So why all the fuss?"
"It is well known that we are great ambassadors in supporting people and families in recovery from many addictions and are active in reaching out to the community to help those in recovery."