Sierra Leone coach hampered by lack of domestic league football
By Mohamed Fajah Barrie
BBC Sport, Freetown
Last updated on .From the section African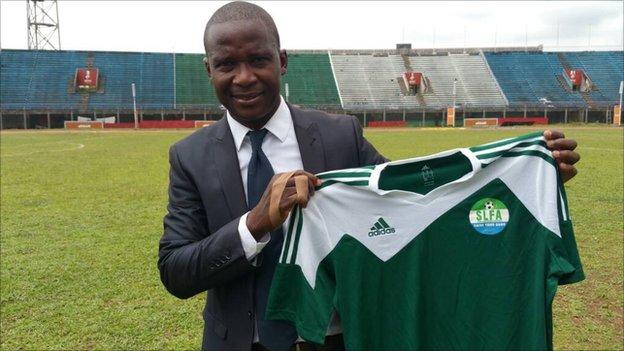 Sierra Leone coach John Keister says his country's lack of a domestic league is hampering his preparation for the 2019 Africa Cup of Nations qualifiers.
There has been no league football in Sierra Leone for the last four years, largely due to internal wrangling within the country's FA (SLFA).
"It's very hard to prepare a team when there is no league," said Keister.
"When you're playing a league it makes it easy for you as a national coach to access the local players."
"Without a league, I've been having training sessions with the local boys just to keep them and the momentum going. I don't like to make excuses.
"A friendly match like the one we had against Liberia on 22 July in Monrovia which ended goalless was important for the boys to keep them going," Keister told BBC Sport.
Sierra Leone are scheduled to face Ethiopia in a 2019 Africa Cup of Nations qualifier in Addis Ababa in September.
Keister says he will have to rely on foreign-based players to play matches in their forthcoming Nations Cup qualifiers.
"Going to the 2019 qualifiers we have to look overseas for our foreign-based players because there's no league in Sierra Leone.
"If there's a league playing and home-based players are doing well, we'll have a mixture of local and foreign based players representing Sierra Leone," Keister added.
Sierra Leone's head of state, Julius Maada Bio, who visited a Leone Stars training session ahead of their friendly international with Liberia, is pushing for peace to return to the SLFA so that league football can resume.
"I want to talk to the SLFA to try to solve their impasse to give opportunities to our players to shine as we're a country with a lot of potential," said President Bio while addressing the players.
"We as a government want to pay a special attention to the team as you're our ambassadors."
Coach Keister is encouraged by President Bio's appeal and described his statement as "motivational to the players."
Sierra Leone's sport minister Ibrahim Nyelenkeh had set himself a target to oversee the resumption of league football in his country within 90 days of taking office in May.