St Mirren may have to wait for striker signing - Alan Stubbs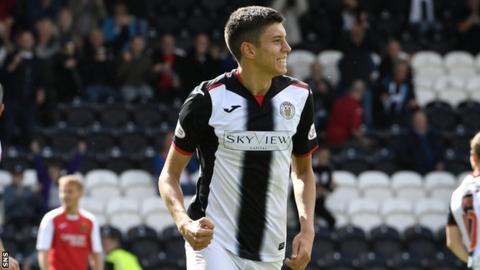 Alan Stubbs is "hopeful" of adding a striker to his St Mirren squad but is "prepared to be patient" to sign the right player.
Saints routed Dumbarton 6-0 on Saturday to reach the League Cup last 16, but drew their previous three games.
Stubbs has approached former club Everton in search of potential loanees but may have to wait until the English transfer window shuts on 9 August.
"I'm hopeful of bringing in a striker," Stubbs said.
"But it's a bit different here because the window's a bit longer than down south. I am prepared to be patient to get the right ones in.
"I have been trying to lean on (Everton chairman) Bill (Kenwright) a little bit to get one or two out, but that charm hasn't worked at the moment.
"It does help that the window is open longer up here though. The World Cup has really affected the Premier League teams in terms of what under-23s or fringe players are out - we won't know that until 10 August when their window closes and the loan market is still available."