English FA's lower league 'sin bin' trial to continue next season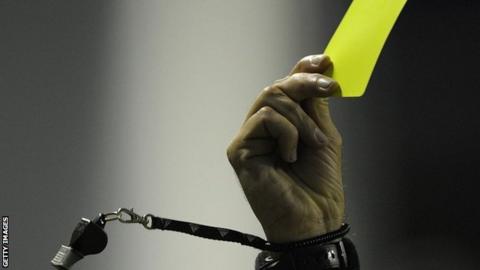 The use of 'sin bins' to try and reduce dissent will continue in lower leagues of English football next season.
"Temporary dismissals" were introduced by the Football Association in step seven - six tiers below the National League - and leagues below in 2017-18.
The dismissals only apply to yellow cards for dissent, with players leaving the field for 10 minutes.
"I am delighted with the overall response towards last season's trial," the FA's Mark Ives said.
"Whilst the general fall in dissent across the leagues involved has been fantastic to see, it is the collective sentiment towards the scheme and desire to continue with it that have been particularly encouraging."
A total of 31 leagues at step seven or below, as well as tier five and below in the women's English football pyramid took part last season, resulting in a 38% reduction in dissent.
This campaign 61 other leagues will join the trial, while in 2019-20 all leagues at step seven or below or tier five or below will join.
Step seven is the bottom level of English football's National League System, which feeds into the country's professional leagues.
The highest league within that structure - step one - is the National League.