Christophe Berra: Hearts unfazed by Kyle Lafferty link to Rangers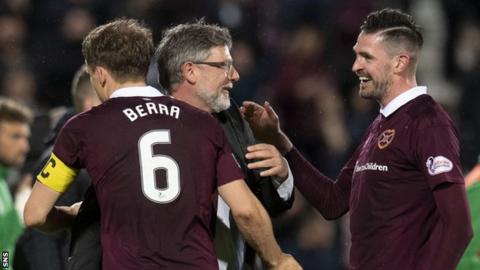 Christophe Berra says Hearts are not fazed by the prospect of losing striker Kyle Lafferty.
The Northern Ireland international, who scored 19 times last season, has been the subject of an unsuccessful bid from Rangers.
But Tynecastle captain Berra believes the speculation is just part and parcel of the game.
"Last year he scored a lot of goals but as football players and as a club, you move on," said Berra, 33.
"Hearts have lost good players in the past and replaced them and it's the same with all the other clubs in the country. Football moves on, we get on with it.
"No matter what club, if you've got players who are doing well individually or if you're doing well as a team, there's always going to be interest in your players and that's football."
Hearts have been busy in the summer transfer window with 12 players having joined Craig Levein's side.
And Berra believes the addition of some more experienced players will boost the manager.
"Hopefully with the numbers coming in we'll have strength in depth for competition," said the Scotland defender.
"Last year and especially in the second half of last year, no disrespect to the young boys because some of them did really well and impressed, but there were times when I'm sure the manager was looking at the bench and there was maybe four or five 17, 18-year-olds, which in the grand scheme of things if you're wanting to be challenging the top four for European football and cup finals, in the long term it's tough going.
"But the majority of the young boys have done really well and impressed so I'm sure they'll have a good future."
Berra, who started his career at Hearts, returned to the club for a second spell last summer and the side finished sixth in the Premiership last season.
"Every year we want to be top four and get into Europe," he added.
"At this size of club, I think we should be there and obviously in the last couple of years we've not managed to do that. It's great having European games at home for the players but it's even better for the fans.
"That is our aim this year and we'll be doing everything to hopefully do that."