How are Real Madrid - and Gareth Bale - shaping up without Cristiano Ronaldo?
By Simon Stone
BBC Sport in Miami
Last updated on .From the section European Football103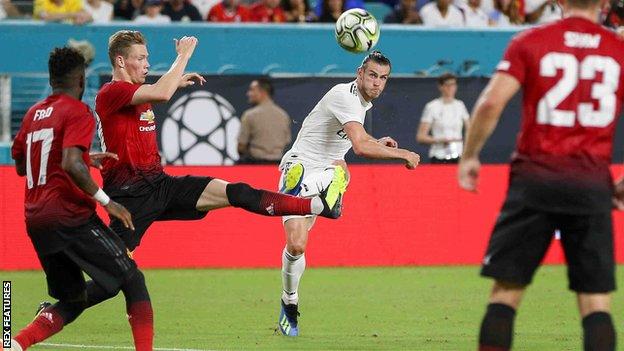 In May, Real Madrid became the first club since Bayern Munich in the 1970s to win the European Cup three times in a row.
The celebrations had barely stopped when coach Zinedine Zidane dropped the first bombshell of the summer; he was quitting.
Zidane's exit was followed by that of Cristiano Ronaldo, whose legacy includes four Champions Leagues, four Ballons d'Or and a staggering 451 goals in 438 games.
Somehow, Real must overcome the departures of these two heavyweight figures and carry on winning.
It will not be easy. And, after having his own status reaffirmed after he expressed doubts about his future at the Bernabeu, it seems Gareth Bale is going to be a central figure.
He started for Real against Manchester United in Miami on Tuesday, so how is he - and a team devoid of Ronaldo's talents for the first time in almost a decade - shaping up?
Real without Ronaldo - does the hype remain?
It is 6pm on a Monday night outside the Hard Rock Stadium in Miami. A white blur sweeps past, flanked by police outriders.
There are not many people about but among those who are, some are at full speed, trying desperately to catch the coach that has just flashed past. They have no chance. The bus stops at the appointed place. A group of highly wealthy young men get off and head straight into the bowels of the ground. Twenty minutes later they are on the pitch, to cheers of thousands of supporters wearing the distinctive white shirts. Welcome to the world of Real Madrid.
Manchester United like to proclaim themselves the biggest club in the world, but it's a debatable point. One thing is for sure, they are not the biggest club in Miami.
About 60% of the Miami population are of Hispanic origin, meaning there is an affinity with the Spanish side that no English club can match.
But before the new season, there is a concern. Many of those white shirts bore the name of Ronaldo - their departed hero - on the back.
How on earth are Real going to cope without their talisman?
One young fan, Hasan, from Miami, summed up the thoughts of many.
"Ronaldo is still my favourite player," he said. "I still love him. There is a fear about how Real Madrid are going to do without him. I am sure we will be fine but we probably need to sign someone, like Eden Hazard, Neymar or Kylian Mbappe."
Remarkably, this will be the first season since 1999-2000 that Real's squad will not feature a Ballon d'Or winner.
No Ballon d'Or...

Player

Seasons at Real Madrid

Won Ballon d'Or

Cristiano Ronaldo

2009-18

2008, 2013, 2014, 2016, 2017

Kaka

2009-13

2007

Fabio Cannavaro

2006-09

2006

Ronaldo

2002-07

1997, 2002

Zinedine Zidane

2001-06

1998

Michael Owen

2004-05

2001

Luis Figo

2000-05

2000
Perhaps the 2018-19 heir to that title - won by Ronaldo in four of the past five seasons - is already within their ranks.
A new-look Real, good news for Bale?
With Ronaldo gone, the path seems clear for Bale - winner of four Champions Leagues in five seasons and an iconic figure for Wales - to become Real's central figure.
But if he is to be the star turn in Madrid this season, he made a slow start in Miami.
Bale began on the right of a three-man attack, with Karim Benzema, the only member of the Real line-up who also began the Champions League final, through the middle and new £38.7m signing Vinicius Junior, 18, on the left.
It remained that way for most of the opening period, although there was one point when the impressive Vinicius moved to the right and Bale went central in a four-man attack. It could be imagined such an approach would be profitable for many La Liga home games against inferior opposition.
In truth, Bale did not do much. He rolled a pass to the overlapping Alvaro Odriozola which led to a half-chance for Benzema early on. But there were no trademark bursting runs as the former Tottenham attacker eased himself through the opening 45 minutes of the first meaningful game of Real's pre-season.
The one noteworthy incident before the Welshman was withdrawn came when he cut in off the right wing and curled a left-footed shot just wide of David de Gea's right-hand post.
In fact, the player who looked most likely - on this evidence at least - to assume Ronaldo's mantle as the team's star was Vinicius, who joined from Brazilian side Flamengo 12 months ago in a world record fee for a player under 19.
That move could not be formally completed because the forward was only 17, under the age for an international transfer.
But age seemed no barrier against United. With his pace and direct running, he looks capable of putting defences on the back foot and restoring some of the electricity that has been lost through Ronaldo's departure for Juventus.
'Real Madrid is bigger than anyone'
The loss of Ronaldo has overshadowed the exit of coach Zidane, which came as such a shock to the Real hierarchy.
Julen Lopetegui's appointment as his successor cost him the chance to coach Spain at the World Cup.
Yet if the turmoil and disappointment of those few days at the beginning of June has troubled the 51-year-old, there are no outward signs of it.
Lopetegui seems calm and relaxed as he steps into one of the most pressurised roles in the game.
Like Zidane, he chooses to watch proceedings from the edge of his technical area. But he lacks the status of the man who starred in both World Cup and Champions League-winning teams as a player and who has just won an unprecedented three Champions Leagues in a row as coach.
He also lacks Zidane's distinctiveness, blending in rather than standing out, as the Frenchman used to do with his familiar bald head.
Nevertheless, as someone who has his own experience of managing Real Madrid, Jose Mourinho feels the club are capable of shrugging off the loss of two such pivotal figures.
"Everybody knows what Ronaldo is," said the Manchester United boss. "Everybody knows what Real Madrid is. You always miss a player like Cristiano but Real Madrid is bigger than any player, and they will cope with it.
"I know Julen from when we first met 21 years ago. He is a good guy and a good coach. I wish him the best."