Premier League: Rail and football chiefs in talks to help fans impacted by TV games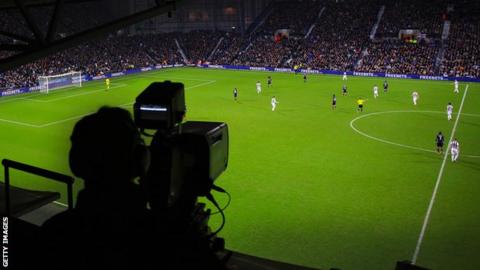 Rail chiefs and football bosses are in talks over ways to help travelling supporters who are being impacted by games moved for television coverage.
It comes after a Football Supporters' Federation (FSF) survey found that 42% of fans asked had missed matches moved to a television timeslot last season.
The survey also showed one in six fans lost money because of rearranged games.
The FSF has called for "affordable" 'fan-fare' style train tickets which are tied to a game rather than a date.
The Rail Delivery Group has told BBC Sport that discussions had begun with the Football Association and league bosses but were at an early stage.
BBC Sport has contacted the Premier League for a comment but is yet to receive a reply.
What else did the FSF find?
The survey, published in the organisation's annual review, found one in six fans had lost money paid on travel or hotels and lost days off from work because of rearranged fixtures while 21.5% decided not to attend a game they otherwise would because it was being broadcast on TV.
The FSF said that Premier League broadcasters "have too much sway" in deciding kick-off times and that top-flight clubs are too focused on overseas fans to the detriment of local ones.
The review also noted that the Premier League regularly failed to meet its own TV pick deadline of six weeks before, sometimes by as many as 23 days.
Last season Newcastle fans were forced to rearrange their 300-mile round trip to Everton after the game was moved from Saturday afternoon to Monday evening with just four weeks' notice.
In the Football League, the time of Aston Villa's trip to Norwich was moved twice in 24 hours to accommodate Manchester City's potentially title-winning fixture against Manchester United.
The FSF says the changes leave fans "in the unenviable position of booking late and paying more for travel and accommodation, or risk booking early and finding themselves stuck with worthless rail tickets".
The study also points to a busy Christmas period in which clubs play eight times in a month during "the most financially demanding time of the year for many fans".
A spokesman for the Rail Delivery Group, which represents train companies, told BBC Sport: "Train companies working together have kicked off talks with the FA and league bosses about possible ways to help travelling fans more, but we're in the early stages of discussions."
The Premier League had plans to reschedule Liverpool's trip to Arsenal last season for Christmas Eve, before strong opposition from fans made them reconsider.
The FSF added: "Christmas Eve football gives fans an impossible choice: go to the match or spend time with your family."
Sit or stand? Other key findings
Fans were also questioned on topics such as safe standing, policing, fan behaviour and international football, and they found:
Roughly one in five fans have experienced racist, homophobic or sexist language at the match, 28.9% heard other language they consider offensive from a supporter.
63.5% of fans think that swearing and bad language is part of watching football. Breaking it down by gender, 58.9% of women agree.
Close to 90% of those surveyed feel fans should have representation on club boards and have a say in how the club is run.
94% of fans believe they should be able to choose whether to sit or stand at football.
Four out of 10 fans watch illegal streams. The number jumps to 58% for under-30s.