EFL 2018-19: How Frank Lampard, Joey Barton and young managers can survive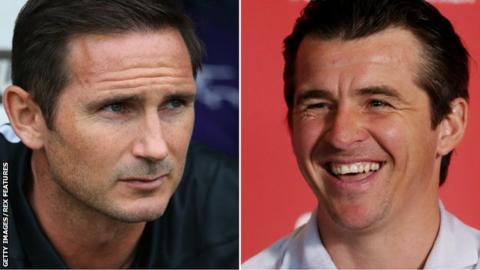 After illustrious playing careers, ex-England midfielders Frank Lampard and Joey Barton will make their managerial debuts when the new football season kicks off this weekend.
But, with nearly a third of English Football League clubs appointing new bosses since the end of 2017-18, what does it actually take to survive as the man in charge?
BBC Sport talks to Lampard and Barton, as well as Stoke's Gary Rowett, Notts County's Kevin Nolan and long-serving Accrington Stanley manager John Coleman, about the keys to success when you're running the show.
Be yourself, with help
There's a balance to be struck when it comes to taking on the all-encompassing responsibility for management for the first time. But a key theme - in true reality TV style - is to "make it your own".
Lampard's football pedigree is unquestioned after winning 106 England caps and 11 major trophies under eight different managers at Chelsea, but his genes are pretty impressive too, with his father Frank Lampard senior and uncle Harry Redknapp providing a wonderful home schooling.
"Management is about taking in ideas and I had a very fortunate run at it in terms of the family I grew up in and the merry-go-round of managers I played under," said Lampard.
"It's collating everything from all these managers for good or for bad and making it your own. That's the magic, that's the trick. It's actually trying not to be a copy of anybody. It's trying to take information and make it about you."
Notts County manager Nolan, 36, was one of the best goalscoring midfielders of his generation and learned his trade under former Bolton, Newcastle, West Ham and England boss Sam Allardyce.
Nolan, who became Leyton Orient manager at 33, vows "to never have a pre-meditated idea about anything".
He said: "You have to have your own judgement. Fourteen people could tell me someone is an idiot, but if that person treats me with respect and shows me what I need, then I treat as I find.
"You trust people and trust their opinion but I want my opinion. I will always be me. If that's not good enough then sorry, that's who I am."
Never stop learning
Coleman has taken Accrington into the third tier of English football for the first time in their history and is approaching his 1,000th game as a boss.
"You are always learning, trying to absorb knowledge and educate yourself," said the 55-year-old. "I have done my badges, my pro licence and just completed a diploma in football management. I am thirsty for knowledge and thirsty to talk to other people.
"If you don't try to progress you will quickly go backwards."
Nolan added: "There have been a few surprises, but not that many because I was such a hands-on captain. Sam Allardyce gave me a lot of authority in terms of how to run the dressing room and he was my soundboard.
"I took a real interest in all aspects of the game, from the sports science to the physio. I wanted to know what they were doing and why they were doing it. I always had the vision that I wanted to be a manager. I tried to take in as much information as I could.
"All my staff say I am like a sponge, which is a nice thing."
Get to know your players
It's easy to lose focus and become sidetracked with all the nonsense and noise around modern-day football.
But Rowett, who was succeeded by Lampard at Derby, said the crucial factor to being successful is actually very simple - it comes down to the players.
"As I say to any young manager coming up, you have to have as many strings to your bow as possible," he said. "Dealing with people is not just about knowing about football, it's about how people tick and getting the best out of different characters and individuals.
"Any management role is about dealing with people. Everyone knows - to different degrees - about football and how to coach, how to manoeuvre a team tactically. But ultimately it's about how you treat people and how they feel when they go on the pitch playing for you."
Coleman believes getting to know players "outside of football" is also key.
"They are the most important part of the club," he said. "Treat them like men and with respect and then hopefully you will get respect back.
"The more time you can devote to them the better response you will get. In a group of 24 players you will have about 18 different personalities and you have to cater for them all. That is a task in itself."
Getting on with the boss
And, of course, it never does any harm to have a good relationship with those in charge. Lampard is the sixth manager to work under Derby chairman and owner Mel Morris in less than three years, but has enjoyed his first month in charge.
"I have a lot of time for somebody who not only owns a club but cares about it and Mel Morris certainly does," he said. "I would love to bring success here to him.
"It's a case of putting it all together and having good conversations with the owner, which I do have, and finding out what is best for the club and going for it."
Nolan added: "The chairman (Alan Hardy) trusts me to do my job and thankfully I have been able to give him some good times.
"I am not saying he doesn't question me because if he didn't I would be wondering why he puts all his money into the club.
"He should want answers. Hopefully 95% of the time I give him ones he wants or he sees why we are doing what we are doing and why it is how it is."
And relax...
Sometimes, though, it's just best to keep schtum.
"In the past I've been somebody who has opened their mouth a little bit too soon and it's come back to bite me on the backside," said former Manchester City midfielder Barton. "I'm going to try not to do that as a manager.
"For me the focus has been always on the team, getting the absolute maximum out of them. I get that when you're on the touchline there is a responsibility that comes with being a modern day manager."
Coleman added: "The best advice I would give would be not to react to things that disappoint you. There is always another day.
"In the past I have been guilty of getting really low and you take it personally and it has an impact on your family, so try to avoid that."
Delegate to accumulate
The art of good management is delegation, according to many. Surrounding yourself with a quality backroom staff and knowing when to let go is vital.
Coleman's assistant boss Jimmy Bell has been with him from the start, while Lampard was quick to get his long-time friend and successful Chelsea youth coach Jody Morris as his number two as part of a carefully constructed team.
"Jody is hugely important," said Lampard. "We played together at a very young age and we played against each other at an even younger age. We are very good friends.
"He has great experience at Chelsea with the youth team there and the academy as a whole so he is crucial for me."
Rowett said building a good backroom staff is crucial because "there are so many facets to your job the time constraints make it difficult".
Embrace it, enjoy it and roll with it
And never lose sight of the reason you got into football as a fresh-faced kid.
"God willing, we will get our 1,000th game this season," said Coleman, now in his second spell as Stanley boss. "My enthusiasm hasn't waned and if anything it has got stronger with this group of players.
"You see a lot of things that can get you down and disillusioned but I am doing a job I would do even if I didn't get paid. The novelty hasn't worn off."
At the other end of the scale, Lampard is preparing for game number one as a manager against Reading on Friday. He says "I love all of it" - so far, at least.
"You are full on," he added. "I take it home with me and that's been a part of my life which I have had to change a little bit. But the overall feeling is excitement."
Rowett said: "I've had players arrested midway through a training session by plain clothes police. I've had all sorts of things that have gone off. They don't teach you that in 'How To Manage'.
"But it's a fun job, an enjoyable job - and it's not even really a job. It's a fun thing and something we all enjoy doing. You can't forget that."
Win, win, win
But, of course, there's pretty much just the one thing that actually ensures survival...
"You can have all the ideology in the world about how to play but you need to win games quickly," concluded Rowett. "If you win games, that buys you time and then you have time to get your ideology across. It's chicken and egg, really."