The training camps that offer a last chance for hundreds of Europe's free agents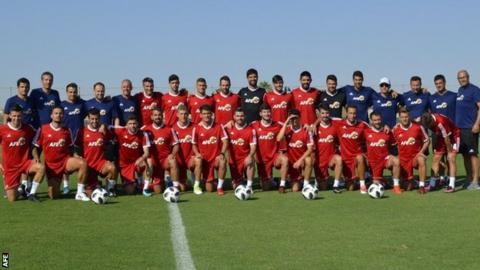 "For sure, this was my last chance," said Guy Ramos. "Not many players come back after two years of nothing. I am not young any more."
Centre-back Ramos, at 32, was one of hundreds of footballers throughout Europe taking one last shot at finding a club this summer.
Players' unions across the continent, in association with world players' body Fifpro, have been holding training camps for out-of-contract players to stay fit and get signed.
Of the 502 players to have taken part in 18 countries, 122 have found new clubs so far - including Ramos.
The Cape Verde international, out of action for two years after suffering a serious knee injury, took part in a camp run by the Dutch union, and has earned a contract with a Moroccan top-flight club, Chabab Rif Al Hoceima.
"This was the last chance to get a professional club and to show myself again," Ramos said.
'A nice stage to present myself'
Sixteen players took part in the Dutch camp and Ramos is one of eight to have been signed.
"I had not played a game for two years and it was difficult for me to get a club," said Ramos, who is returning after anterior cruciate knee ligament surgery, having previously been at Dutch side Roda JC Kerkrade.
"This was a nice stage to present myself and let everyone know I am back."
At the Dutch camp, Team VVCS trained every day and played five games, facing their Belgian counterparts, as well as Roda and Turkish top-flight club Antalyaspor.
"For two years I couldn't play and it was very difficult, so to be part of a team on the pitch again was a joyful experience," added Ramos, who captained VVCS.
Former Netherlands international striker John van Loen ran the four-week camp as head coach, alongside fitness coach Rob Druppers, a former middle-distance runner who won an 800m silver medal at the 1983 World Championships.
Three goalkeepers who took part have been signed, including Mike Havekotte, who joined Dutch top-flight side ADO Den Haag.
The players did not get paid for their time, but got food and kit and travelled every day to a central training location in the Netherlands.
"The goal is to find them a new club - they're all in the same position," said VVCS education manager Arjan Ebbinge. "We want to get them fit and play matches so when they join a team they are ready - this is their pre-season.
"They want to play at clubs in the first or premier divisions in Holland, or at the highest level in foreign countries. This is their last chance to find a big club, otherwise they will drop to lower divisions - and the chance of getting a big move after that is not very big."
Ebbinge, 43, a former defender, says the players are invited to the camp and the VVCS promote the team on social media. Scouts are invited to training sessions and matches.
"I think clubs searching for players will know players at our team at least have a good mentality, because they have invested themselves to get fit and find a new club.
"We try to give them a new chance in football and when they succeed it gives a very good feeling."
Ramos said Van Loen had contacted Chabab Rif Al Hoceima on his behalf, adding: "I was one of a few he pushed forward.
"I was just hoping to play again for a team; it didn't matter who.
"I did everything I could to get fit. It was not just luck; I worked hard for it. This is your job. You cannot sit on the couch the whole summer, expecting to find a new job.
"Without this camp I would not have had contact with Morocco and got a contract - it saved my career."
'Run like a professional club'
Spain's union, the AFE, has been holding camps twice a year since 2011 and said that 85% of players who take part have gone on to sign for a new team. Last year, out of 78 players, 71 were signed.
The AFE said its aim was "to make players feel like they are in a professional club" during the two-week camps.
At those camps, the players have two coaches, a fitness trainer, goalkeeper coach, scouts, kitman, press officers, and specialists in sports medicine, nutrition and psychotherapy.
In addition to the football, they are given language courses and advice on how to prepare a CV for when they retire.
The AFE also organises "off the pitch activities to reinforce the group's identity".
It hires retired footballers as coaches who wish to pursue a career in coaching and like the Dutch camp, gives them an opportunity to find a club too.
Former coaches include Real Sociedad boss Asier Garitano, ex-Leeds United manager Thomas Christiansen and Real Madrid legend Ivan Helguera.
This summer, they hired ex-Real Madrid midfielder Jaime Sanchez, who won the Champions League in 1998.
Players apply to take part and are then selected by a committee, made up of the camp's coaches and technical secretaries, and coaches and sporting directors from Spanish clubs.
"The criteria are based on having a team which is competitive, with players who have future projection," said the AFE.
Alan Martinez, an Argentine goalkeeper, was the first player from this summer's camp to sign for a club, joining Spanish side CD Quintanar del Rey.
He said: "AFE really makes us feel like football players. They put all the means available for us to find a team and stay in the best possible physical and mental condition."
'Not feasible in England'
The idea of the camps was started by the Italian union AIC in 1985. Fifpro used to organise tournaments but that stopped in 2015. However, players' unions still organise tournaments among themselves.
England's Professional Footballers' Association has been involved in Fifpro tournaments in the past but does not run its own camps now.
The PFA said there were around 700 players out of contract in the country and it would "not be feasible" to run a training camp.
But it does offer a number of services for free agents, allowing players to advertise their services on the PFA website and organising exit trials so young players released by clubs can play matches in front of scouts.
"We have a strong pyramid of 92 clubs and the National Leagues, which offer paid opportunities throughout the leagues," said PFA deputy chief executive Bobby Barnes.
"Even if you drop out of League Two, it is not necessarily the end of their pro career. There are opportunities further down the scale."
| Players taking part 2018 by union | |
| --- | --- |
| Austria: 24 | Malta: 24 |
| Belgium: 16 | Montenegro: 18 |
| Bulgaria: 18 | Netherlands: 16 |
| Croatia: 18 | Portugal: 25-30 |
| Czech Republic: 22 | Romania: 25 |
| Denmark: 90 | Serbia: 16 |
| France: 39 | Spain: 24 |
| Hungary: 21 | Switzerland: 16 |
| Italy: 65 | Turkey: 25 |