Premier League clubs paid £217m in wages to injured players in 2017-18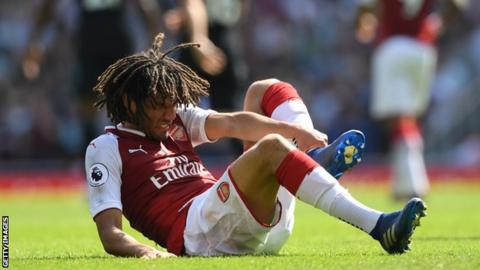 Premier League clubs paid out £217m in wages to injured players in the 2017-18 season, according to research by insurance broker JLT Specialty.
The cost increased by 21% from £176.6m in 2016-17, despite the total number of injuries falling from 735 to 663.
Arsenal suffered 54 separate injuries last season - the most in the Premier League.
Hamstring injuries were most common, while knee injuries had the highest average cost of £613,402 per injury.
Champions Manchester City suffered the second fewest number of injuries in the season - 24 along with Newcastle - while Brighton had the fewest injuries (15) of any top-flight club and also paid out the least in wages (£3.01m) to injured players.
JLT Specialty calculated that an injury costs a club an average of £323,000 in wages.
Duncan Fraser, head of sport at JLT, said: "It will be interesting to see what effect, if any, the World Cup has on injury rates in the upcoming season.
"History has shown that teams could expect to see more injuries following an international tournament than during a fallow year.
"If this trend continues then teams can expect to see a rise in both the amount of injuries and the costs resulting."
Premier League table of injuries 2017/18
Club
Cost (£m*)
Number of injuries
Manchester United
23.3
37
Arsenal
19.3
54
Liverpool
16.2
44
Chelsea
16
38
Everton
15.9
35
Crystal Palace
15.8
35
West Ham
14.8
50
Manchester City
13.9
24
Watford
11
37
Tottenham
10.5
33
West Brom
8
34
Swansea
7.3
27
Burnley
7
26
Stoke
6.5
30
Leicester
6
30
Bournemouth
5.7
35
Southampton
5.1
25
Newcastle
4.5
24
Huddersfield
4
30
Brighton
3
15
*figures rounded to nearest £100,000