Women's Super League: Football Association 'open to Premier League takeover'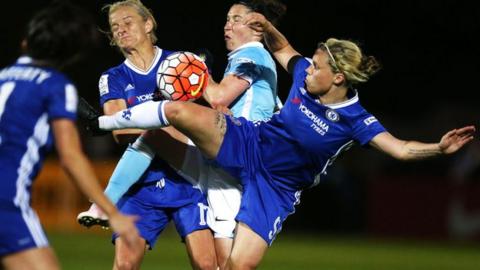 The Football Association is open to the Premier League or Football League running the Women's Super League.
Premier League clubs make up 11 of the 22 sides in the women's top two divisions and some believe the WSL could be run more professionally.
The FA, which has yet to find a title sponsor for the league that began in 2011, accepts this stance and has held discussions with the clubs.
But it will not hand over control of the league unless it suits all teams.
The FA wants to avoid the league going bust, which has happened several times in recent years in the United States.
However, it does not see itself running the WSL as a long-term option.
The Premier League and Football League have been contacted by BBC Sport, but chose not to comment.
The matter was discussed at a "positive" governance meeting between the FA and clubs this week, where clubs also voiced their opposition to the FA's proposal of introducing a home-grown quota of English players in the league.
Although some WSL and Championship clubs accept that the FA has grown the game sufficiently and attendances have steadily grown, they also recognise that the governing body invests much of its resources in the England team, undermining the WSL's commercial potential.
Clubs believe that it will take more time to develop the league to a point where it will be attractive enough for the Premier League or Football League to take over.
The new league season starts in September and will feature a top tier of 11 full-time professional teams for the first time, with the second-tier Championship made up of 10 part-time semi-professional teams along with newly formed Manchester United, who are full-time.
Chelsea women's boss Emma Hayes has previously called for the Premier League to be involved in the running of women's football.
She has been critical of the way the FA has structured the league season, where there have often been big gaps between fixtures, leading to a handicap ahead of Champions League games.
The WSL started as a summer league in 2011 to differentiate it from men's football and to attract new fans, but it moved back to a winter league last season.
That coincided with average attendances levelling off or dipping at all clubs except Chelsea.
Most teams still run at a loss, with the three biggest teams - Manchester City, Chelsea and Arsenal - reliant on significant support from their men's teams.