Adam Rooney says leaving Aberdeen was for a new challenge and not for money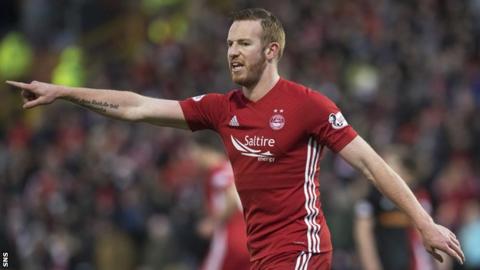 Adam Rooney says he left Aberdeen for Salford City to seek a "new challenge" and not for money.
The forward swapped the Premiership runners-up for the English fifth tier for an undisclosed fee.
The switch was reportedly worth £4,000 a week for Rooney, but he insists that was not the motivation for the move.
"I've obviously got a decent deal for myself and my family but this was an opportunity that really intrigued me," he told BBC Scotland.
"I had four-and-a-half great years at Aberdeen and I loved my time there but I just felt it was possibly the right time to move on."
Load of nonsense
Rooney's transfer to the National League triggered debate about whether it signalled a downturn in Scottish football.
"I think it's a load of nonsense to say my move has meant a decline in Scottish football," he said on Sportsound.
"You look at it from the outside and I probably didn't play as much in the last couple of months of the season and I felt it was probably a good time to move.
"Everyone was happy with the deal and I was just surprised. If anything, this season is probably going to be more competitive than it has been in years."