Harry Cochrane & Billy Gilmour lighting the way for Malky Mackay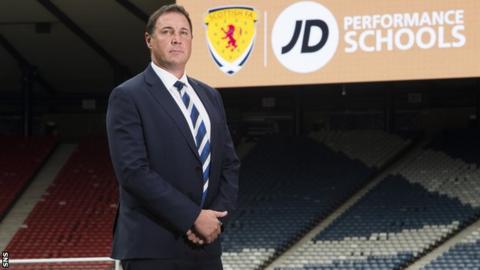 Malky Mackay believes the emergence of players like Harry Cochrane and Billy Gilmour prove Scotland is again producing top young talent.
The pair are graduates of the Scottish FA's performance schools, a project now in its seventh year.
Mackay, as the SFA's performance director, says the scheme is bearing fruit.
"Our first two lots have finished at the school and they are technically better," Mackay told BBC Scotland.
"I see first-team managers playing lots of young players - Cochrane and [Anthony] McDonald at Hearts, young Bruce [Anderson] scoring yesterday at Aberdeen [against Rangers].
"Since the performance school kids have come in to full-time football, 100 of them have been given professional contracts and, even better than that, eight made their debuts for Scottish clubs at 16.
"Also, clubs in England are starting to look north of the border for talent. So far, through the performance schools £1.25m has been spent by English clubs for kids that have come down."
Gilmour is the highest-profile example of that after moving from Rangers to Chelsea.
Since then, he starred at the Toulon tournament for Scotland Under-21s, winning 'Revelation of the Tournament' despite playing against players five years his senior.
"In the last year, between under-16s and 21s we've now on one-off occasions beaten England, Holland, France, Germany, Spain and Brazil," he added.
"This is a good time to be a young Scot and to be in the national teams."
Mackay feels better relations with the country's top clubs - eight of whom were given 'elite' academy status as part of Project Brave, the SFA's blueprint for improving youth development - is also helping.
"What we wanted was better facilities, more support staff and better-educated coaches. To the clubs' great credit they've achieved the criteria we put upon them," he explained.
"Ultimately we're desperate for them to become Scotland players. If they become Scotland players they get better, it's going to be better for their clubs. It's a win-win."