Man Utd: Why did they not sign anyone and is there trouble ahead for Jose Mourinho?
Last updated on .From the section Man Utd918
Speaking to Manchester United's own TV station following a 1-0 defeat by Bayern Munich on 5 August, Jose Mourinho said his side would face "a difficult season" unless they signed at least one more player.
At the time, United boss Mourinho was confident a new central defender would be recruited.
It did not happen. Despite late excitement over a move for Uruguay's Diego Godin, which, it subsequently transpired, had fizzled out earlier in the week virtually as soon as it had been made, Mourinho's squad remains as it was on 4 July when Lee Grant arrived from Stoke as United's third-choice keeper.
Thirty-six hours before the 2018-19 Premier League was set to begin - United welcome Leicester to Old Trafford on Friday night - Mourinho was asked if he had the "tools to compete" with Manchester City and Liverpool.
"I know the words you want me to say," he said. "I think by the end of November, December you won't need words, you will see by then which teams are candidates to win the Premier League."
Does that mean there is trouble ahead for Manchester United?
Why didn't they sign anyone?
In short, they couldn't do the right deal.
The confidence Mourinho expressed about United getting an additional signing on 31 July during the club's pre-season tour of the United States was based around multiple targets.
They ranged from Leicester's Harry Maguire to Barcelona's Yerry Mina (who subsequently joined Everton), via seasoned internationals Jerome Boateng and - briefly - Godin.
United have the money to do big deals. They were prepared to do exactly that to get a top player. Executive vice-chairman Ed Woodward would not have flinched had he been told £100m, a sum that would have smashed both United's club record transfer fee and the world record for a defender, was the price to be paid for for the right man.
But the right man never materialised. Over the course of a lengthy meeting between United and Real Madrid top brass in Miami last month, Raphael Varane never became a discussion topic because it was obvious the Champions League winners would not have sold him.
Talks about Maguire never progressed beyond the outline stage because, with no need to sell and secure in the knowledge the England man had four years left on his contract, Leicester were pushing the price upwards, to the level Liverpool paid for Virgil van Dijk.
For a man with no Champions League experience and still relatively new to the Premier League, United did not think entering the market at that level was wise.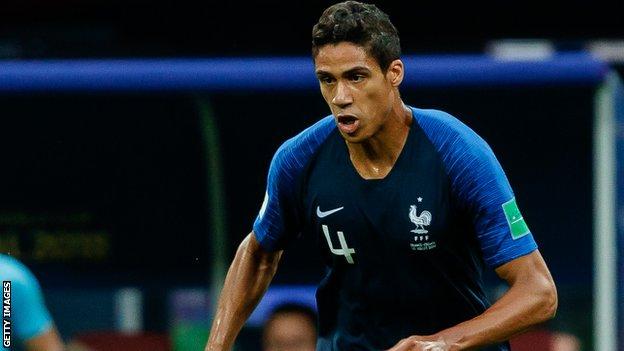 Godin's class is not in question either. The 32-year-old remains one of the best defenders in the world.
Encouraged to go for the Uruguayan in the final days of the window, United discovered they were being used as leverage to net Godin a better contract extension from Atletico Madrid, so another door closed.
Jerome Boateng was offered by Bayern Munich for about £40m. Mourinho was keen on the former Manchester City man. United, having analysed Boateng's awful appearance record - 33 games missed through injury and illness in two seasons - proposed a loan. Boateng and Bayern were not impressed.
United were not impressed by the outcome of their negotiations over Mina, walking away from what they regarded as prohibitive agents' fees which, if they had agreed to them, would have set a dangerous precedent for a player who is hardly in the world-class bracket.
Speculation surrounding a move for Tottenham's Toby Alderweireld rumbled on for much of the summer.
It turned out to be unfounded. United never made a bid for the 29-year-old Belgian.
As one club source said: "We ended up in a situation where if we had done a deal, we would have been swapping our fifth best central defender for another fifth best central defender."
Under the circumstances, United concluded there was no point.
What's the story with Anthony Martial?
If anything sums up what seems to be a divergence of opinion over the short-term strategy at Manchester United, it is the treatment of Anthony Martial.
In the United States, less than 20 days ago, it became apparent Mourinho was willing to let Martial leave.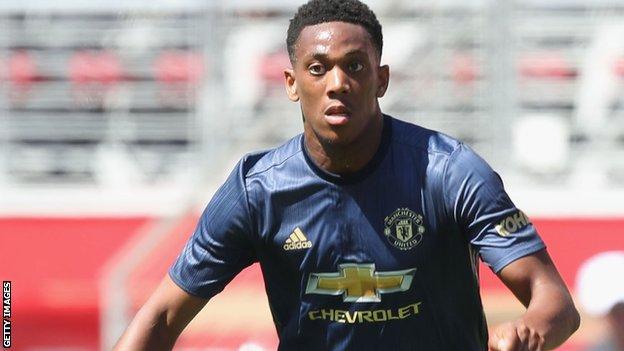 The decision was based around the comments of Martial's agent, Philippe Lamboley, who in a TV interview in June said that "after considering all the factors and possibilities" his client wanted out.
In truth, the position suited Mourinho, who concluded a long time ago that Martial, who has a maximum two years left on his contract, goes missing at big moments.
Evidently, that view is not shared by others at Old Trafford.
The one conversation between Woodward and Tottenham chairman Daniel Levy this summer centred around the availability of Martial and Juan Mata. In both instances, Levy was told no.
As the transfer window entered its final week, rumours surfaced that Martial might be sold to fund a move for Inter Milan's Ivan Perisic, of whom Mourinho is a long-standing admirer.
Sources at Old Trafford were adamant that Martial would not be sold. So it has proved.
Given Manchester United do not have a director of football, it is not absolutely clear who is making footballing decisions that contradict Mourinho's.
And, despite Martial remaining, there is no obligation on the manager to pick him, which is exactly what happened at the weekend when the Frenchman remained in Manchester for a double training session rather than flying to Munich for United's final pre-season friendly.
The reason for his absence? Martial returning to France for the birth of his daughter which ended his United States tour a week early.
"There is no story," said Mourinho. "He had three days of pre-season. Then he had nine where he did no training and no football. Absolutely nothing [about it]. If you do that, you have to start again with the other people."
Where does this leave Mourinho?
If Mourinho's "difficult season" assessment is taken at face value, the Portuguese is heading towards a turbulent few months.
It is clear he has not got the players he wanted.
Mourinho has given youth a chance at Old Trafford but he is also of the view that if Manchester City's dominance is going to be challenged, it must be with a core of experienced, top-quality players, who tend to be around 29 years of age with little resale value.
Those responsible for signing the cheques tend to look longer term. Paul Pogba, for instance, was bought at huge cost, £89m, and comes with an enormous social media following, 5.62m on Twitter alone. In the modern game, such things matter.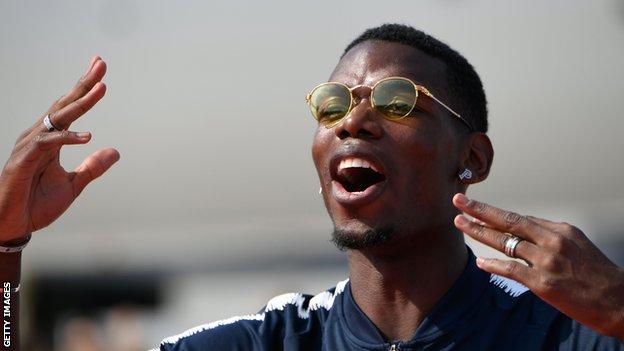 So, whether Mourinho wanted to or not - and there is no evidence he did - Pogba would not have been sold this summer, despite suggestions the Frenchman would be open to exiting Old Trafford for a second time.
United must also factor in market volatility in assessing their transfer dealings.
Neymar's £200m move from Barcelona to Paris St-Germain 12 months ago might be dismissed as an exception. But it created a ripple effect that led to Barcelona signing Ousmane Dembele and Philippe Coutinho for £135.5m and £142m respectively.
Sir Alex Ferguson was ridiculed for saying there was "no value in the market" but United have to think seriously before adopting a "pay what it takes" stance.
Ultimately, Mourinho has at his disposal the same squad that finished runners-up last season, minus the retired Michael Carrick, and plus Brazil World Cup midfielder Fred and teenage full-back Diogo Dalot.
In addition, to his satisfaction but the chagrin of many United fans, Mourinho also has Marouane Fellaini, who ended months of speculation by signing a two-year contract at the end of June.
Will it be enough to close a 19-point gap to Manchester City and at the same time hold off an anticipated threat from a resurgent Liverpool?
Mourinho says by the end of November it will be known which clubs will be Premier League title contenders.
If Manchester United are not one of them, no-one would be surprised if those in charge start to get a succession plan prepared.