Arsenal 0-2 Man City: Unai Emery's opener is a reality check for Arsenal

By Martin Keown
Former Arsenal defender and MOTD2 pundit
Last updated on .From the section Arsenal

Arsenal's defeat by Manchester City on Sunday was a reality check for their fans and demonstrated how much work new Gunners boss Unai Emery has to do.
It is obvious that the Arsenal players are still getting used to the way Emery wants them to play, and it is going to take them time to get it right.
You also have to consider the challenge he faces in taking over from Arsene Wenger. This is a new era for the club after 22 years, and it is going to see a lot of changes.
It is an exciting time, but there will be some disappointments too and this was Emery's first game in charge, against a City side who won the league with 100 points last season. It was never going to be easy.
City show Pep's project is two years ahead of Arsenal
I think there was an element of disappointment for Arsenal supporters on Sunday because a lot of people thought that, with Emery spending all of pre-season together with his squad, they could have stolen a march on City boss Pep Guardiola, who has only had some of his players back for a couple of weeks.
But the idea of them catching City cold probably disappeared at last weekend's Community Shield, when Pep's players came out and performed so impressively against Chelsea even though some of them did not seem to have had any summer break.
The thing to remember here is that the City project with Guardiola is two years further down the line than where Arsenal are at with Emery, and it definitely showed.
This is Guardiola's third season and in that time he has completely overhauled the club. That is exactly what Emery is doing now, but he is just starting out.
Cech overworked, and given few options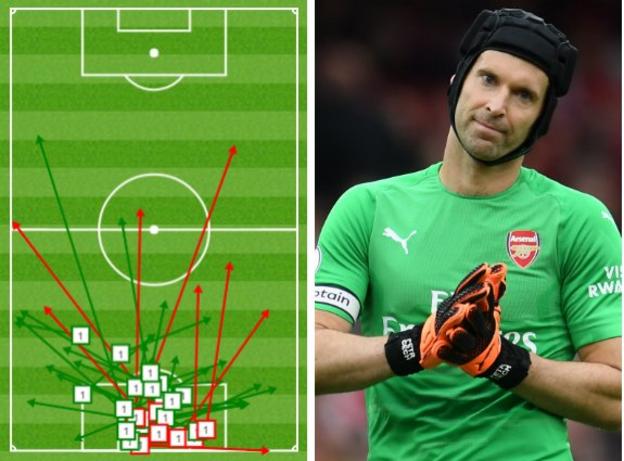 One of the features of the game at Emirates Stadium was that Arsenal were hell-bent on trying to pass out from the back, whatever the situation.
That was despite having a 36-year-old goalkeeper in Petr Cech who is vastly experienced but has never played that way to the same extent before, not even under Wenger.
Arsenal often struggled to beat the City press and clear their lines, and what made things even more awkward for Cech was that he was not being given many options.
It seemed that, along with one of their central midfielders, the two Gunners centre-halves were dropping into really deep positions to make up a three to get the ball off him, but I was not really sure where they were trying to go from there.
Cech made 42 touches - many more than he normally does, because the ball kept on being played back to him, rather than being passed up the pitch.
Petr Cech: Most average passes made per PL game

Season

Team

Passes

1. 2018-19

Arsenal

42
2. 2005-06

Chelsea

28.2
3. 2004-05

Chelsea

28
4. 2015-16

Arsenal

25.1
5. 2016-17

Arsenal

24.5
6. 2017-18

Arsenal

24
It meant he seemed to be overworked and it felt like I was watching him with the ball at his feet for far too long.
The ball needed to go forward quicker and the Arsenal fans obviously thought that too, because they cheered when Cech did launch it.
I was a bit surprised that he did not do that more often, because there were times when Arsenal kept on losing the ball in dangerous positions and Cech's experience should have told him to miss them out and go long.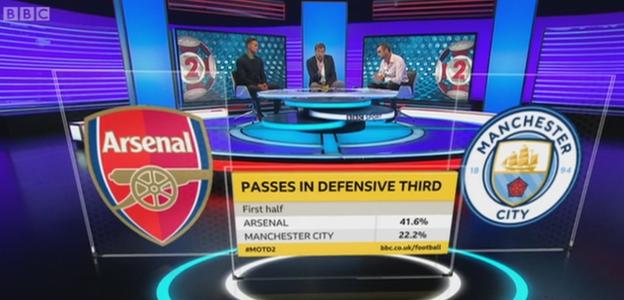 Although Arsenal were set up with those three players to get the ball from Cech, the rest of the team did not seem to want to come and get it off them.
When it did go forward, it was almost as if the Arsenal players were not expecting it, and they were caught in possession in their own half.
They seem to have worked out step one of playing this way, but now they need to sort out step two, and also bring the ball out effectively, like City do.
'Gallant' Guendouzi shows his character.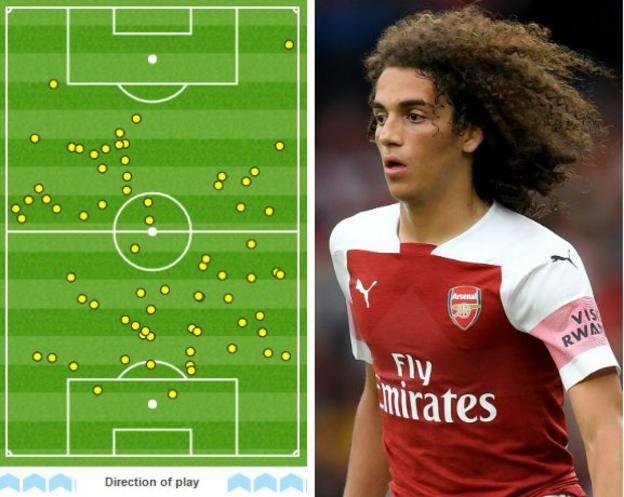 Emery is going to be learning a lot about his players in the coming weeks because you don't really know how someone is going to perform under pressure in a Premier League game until they actually do it.
When I was watching Sunday's game, I was thinking to myself how young Matteo Guendouzi was to be given such a key role in the heart of their midfield against a team as good as City are.
He is only 19 and was making his debut after his summer move from Lorient, who play in the second tier in France.
Yes, Guendozi made some mistakes, but I actually thought he was quite gallant in his performance. He did not hide after making those errors, and was actually fearless in the way he kept on showing to receive the ball.
It seemed to me that some of the people around him, who are more senior players, did not quite show the same appetite to get on the ball when things were not going well.
Is Guendozi the answer to Arsenal's prayers in that position? Probably not, but I think he was put in there for his character, and he certainly showed a lot of it.
Man City show Arsenal the way - as a team and individuals
Arsenal go to Stamford Bridge next weekend to play London rivals Chelsea and I wonder if Emery will make any tweaks to his team.
City showed Arsenal the way it should be done in lots of areas, including how to play out from the back and also apply an effective press themselves.
Individually too, there was a lot to learn for Emery and his players from going up against the champions.
One of Arsenal's strengths is with their forward players, but they did not get the ball into them often enough until Alexandre Lacazette came on in the second half.
Mesut Ozil and Henrikh Mkhitaryan were both operating in wide areas behind Pierre-Emerick Aubameyang against City and, although they did have some freedom to come inside, I am not sure they are right for those roles.
In a Pep Guardiola team, I cannot see Ozil and Mkhitaryan ever being used like that, because they do not have the pace and also do not do enough defensively.
Maitland-Niles must be aggressive with his pace
To give Arsenal more zip going forward, it might be a case of Emery playing with two strikers and trying to use the speed of Aubameyang out wide, or he could ask more from other players who are already in the team.
Ainsley Maitland-Niles, who started at left-back for Arsenal, is a player I admire a lot. I think he has a great future, although not necessarily in that position, and one of his strengths is how he fast he is.
He ended up going off injured after 35 minutes against City but, when he was on the pitch, instead of taking the game to Kyle Walker down his flank it seemed like he was content just to do enough to try to contain him.
Walker, in contrast, was being aggressive with his pace and was so keen to get forward he almost appeared to be jet-propelled.
That is what I want to see Maitland-Niles doing too, because he is also fast enough to really hurt teams.
But he is not the only one I would like to see some improvement from - there is an awful lot of work for Emery to do on the training pitch with all of his players.
The fans at Emirates Stadium were desperate to get excited about anything they could on Sunday, but they did not really see enough of those sort of moments.
This Arsenal side is a work in progress, and this is a time where their supporters need to stay with their team while they adjust to what Emery wants them to do.
Martin Keown was speaking to BBC Sport's Chris Bevan.