Europa League: Uefa investigates after assistant referee's head is badly cut open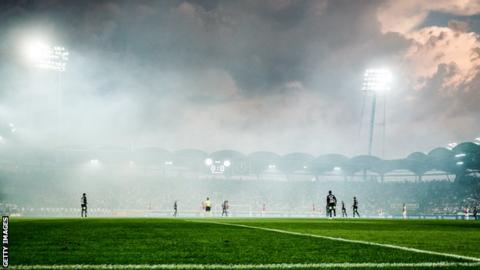 Uefa has opened a disciplinary case after an assistant referee's head was cut open by a full drink thrown by a fan in a Europa League tie.
The incident happened during Austrian club Sturm Graz's home fixture with Cypriot club AEK Larnaca on Thursday.
TV footage clearly shows a home fan rising from his seat and aiming the heavy projectile towards the assistant.
Uefa has charged Sturm Graz under regulations relating to the "improper conduct of supporters".
This case will be dealt with by European football's governing body on 17 August.
Charity Ref Support said it believed that the game "should have been abandoned".
"We believe the decision by Uefa to continue their Europa League game after an assistant referee suffered a serious head injury when an object was thrown from the crowd was a missed opportunity to support match officials," a statement read.
In response, Uefa said: "The referee is the official with the highest authority at a match and he decided, after consultation with his assistants and the match delegate, to play the remainder of the match."
Shortly after the incident, Sturm Graz released a statement saying the fan had been apprehended and they were now considering what action would be taken.
"We are sorry that today we have disappointed many football fans," the club said.
"This damages the reputation of football and us as a club. We always try to see football as a positive celebration and to tackle these things exactly. Fair play is our top priority."
The match was stopped in the 77th minute after Swedish assistant Fredrik Klyver was hit by what appeared to be a large plastic cup filled with liquid.
He received treatment at the side of the pitch for a nasty gash before being helped from the field of play with a bandage around his head.
After a delay of about 24 minutes, Klyver was replaced by fourth official Magnus Lindgren and the match was resumed. Lanarca went on to win the third qualifying-round, first-leg tie 2-0.