Kick It Out 25th anniversary: Lord Ouseley on the racism he faced
By Lord Herman Ouseley
Chair of Kick It Out
Last updated on .From the section Football
In 1993 Herman Ouseley founded Kick It Out to tackle racism and discrimination in football. The organisation celebrated its 25th anniversary on Sunday.
This article contains references some readers may find offensive
Nothing prepares you for a whole new life in a totally different environment and strange culture. I arrived in England in 1957 as a 12-year-old boy and settled in Peckham, South London.
Having travelled alone for 17 days from Guyana - a British colony in the South American mainland - I was in total culture shock when greeted by my mum, a nurse who had moved here a year earlier, and my new stepfather. Within days I was settling in at school in Dulwich and being kitted out for sport.
It was a new world to see people kicking a ball around the playground. I had never seen or experienced football until then.
Football was a sport denied to us in Guyana by our colonial rulers, the British government. The expats in the country played cricket and rugby but virtually all the participants were white, even in a nation dominated by residents of African and Asian heritage.
My new all-boys comprehensive school had more than 1,700 pupils, but just a handful of black and Asian boys.
At first I was unaware I was being racially abused when insults came my way because the abusers always had a smile on their faces.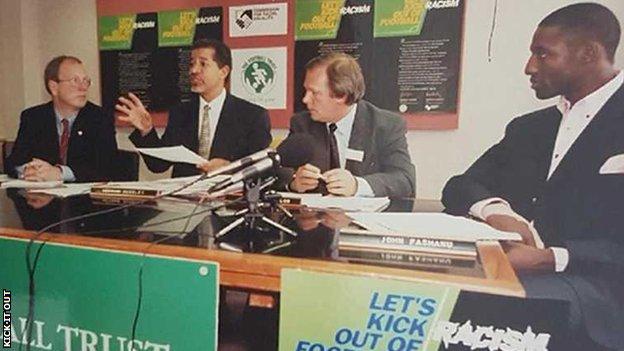 It was more sinister when adults joined in. I lost count of the number of times I'd hear phrases like "We didn't win the war for people like you to come here and take our jobs and homes".
It was impossible to know how to react - I was a child. They were as ignorant about the black and Asian contribution to all the war efforts as I was.
It was impossible not to feel hurt and fearful. I made friends easily and they protected me from the gangs of Teddy boys with flick-knives, knuckle dusters and bicycle chains. You had to have eyes in the back of your head but keep them down when you walked the streets.
My closest school friends were very protective back then. We're still good friends. We used to go and see Millwall and they made sure I kept my head down, remained inconspicuous and avoided eye contact with those looking for trouble. It didn't matter what side you were on to some. Millwall's domain was truly a Lion's Den.
When I started playing club football, the teams in the early 1960s were all white. The changing rooms were filled with talk of the 'N' word. Some of the 'hard nuts' enjoyed boasting about how many "black b*******" they had beaten up during the week!
You had to keep your cool or leave. I wasn't prepared to walk away. In later years, all-black teams and mixed race teams with black coaches and supporters, unwilling to accept this treatment, became more common.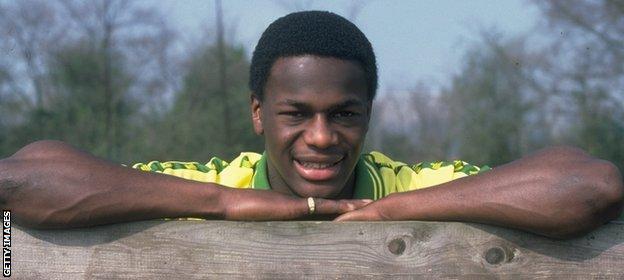 These sides planted the seeds of change in English football as talented BAME (black, Asian and minority ethnic) players began to emerge from the grassroots level to become prominent professionals.
Things were getting better, but racism still prevailed. The political climate was hostile. Enoch Powell's Rivers of Blood speech in 1968 generated hatred and viciousness which was played out on the terraces.
Racist slogans were slapped across signs, posters and stickers on the streets and outside football grounds. A decade later Margaret Thatcher added fuel to the fire with her speech about being "swamped by people with a different culture", which raised the temperature of race hate.
London - the most diverse, multi-cultural city in the world - saw some of the worst racially abusive conduct, involving both players and fans. I was among a Manchester United fan contingent in a match against QPR at Loftus Road when I got covered in spit and had to leave early.
Ironically, at another game involving Manchester United, I was spat at by other United fans. At Chelsea, National Front extremists used to meet before each home game at Stamford Bridge to organise how best to discharge their bile and hatred.
In the mid-1980s, I made attempts to persuade club management to deal with such abuse and violence. Reg Burr, chairman at Millwall, was not convinced to make any interventions, believing the racists should be ignored and shunned.
At one of England's major clubs I was told the chairman will sort out any problems and did not need any external intervention. Security staff with baying German shepherds then escorted me off the premises.
The breakthrough came in 1993 when I was appointed to be the executive chairman of the Commission for Racial Equality (CRE). I now had the power to threaten and invoke action against the authorities and clubs where it was evident racial discrimination was taking place.
I approached all 92 clubs in the EFL and the newly-formed Premier League to ask them to join in a campaign to tackle the worst excesses of racial abuse, harassment and violence in football.
The Professional Footballers' Association (PFA) was quick to join with the CRE and the Football Trust (now the Football Foundation) to co-sponsor the project. With more than 50 clubs quickly signing up, the campaign was launched on 12 August 1993, with Gordon Taylor (The PFA), Richard Faulkner (Football Trust) and former professional footballers Paul Elliott and John Fashanu.
Four years later, we became Kick It Out to reflect our work tackling all forms of discrimination in football.
Twenty-five years ago football was not a nice place if you belonged to a minority group. Bringing about change has been a long haul.
At times, we've had to tiptoe around some big issues with the FA, the leagues and other key parts of the game at all levels. Institutional complacency and discrimination requires sensitive negotiations and persuasion to bring about change.
Above all, it's players who deserve the most appreciation because they have had to cope with - and overcome - abuse to become role models and persuade fans to accept diversity.
Kick It Out continues to establish good working relationships with all parts of the game. We are desperate for all of football to come together in pursuit of equality, inclusion and cohesion.
But sadly - and worryingly - in wider society we're seeing elements of hatred and distrust of 'others' creeping back because of divisive politics and indifferent national and local community leadership.
There are serious implications of this that everyone in football must not ignore. We must stop hate peddlers re-establishing a presence in the game. Despite the new season being just one week old, Kick It Out has already received several complaints of abuse, which are being investigated.
There is a fight to be fought for equality and diversity. Let's kick racism and all discrimination out of football and lead the way for the rest of society in achieving social cohesion in our multi-cultural and multi-ethnic country.
No turning back.