BBC Sport - Irish Premiership: Mitchell stars as Glenavon beat Warrenpoint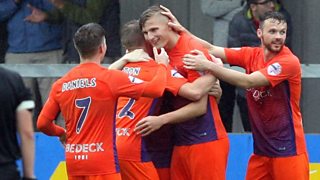 Mitchell stars as Glenavon beat Warrenpoint
Andrew Mitchell scores twice as Glenavon claim their first win of the season, beating Warrenpoint 4-2 at Milltown.
Adam O'Sullivan gave the hosts the lead before Mark Sykes and Stephen Donnelly scored in quick succession to turn the game around.
Mitchell gave his side a 3-1 lead at half-time before adding another late on after Warrenpoint had cut the deficit.