Garth Crooks' Team of the Week: Salah, Pogba, Zaha, Walker - and who else?

By Garth Crooks
Football analyst
Last updated on .From the section Premier League

Defending Premier League champions Manchester City started with a win at Arsenal while Manchester United kicked-off the new season with a victory over Leicester.
Elsewhere, Liverpool thrashed West Ham, putting four past them for the fourth consecutive time, while Tottenham won at Newcastle and Bournemouth beat top-flight new boys Cardiff.
Chelsea cruised past Huddersfield, Fulham lost to Crystal Palace and Watford saw off Brighton.
Wolves twice came from behind to draw 2-2 with 10-man Everton and Southampton and Burnley played out a goalless draw.
But who did enough to make my Team of the Week? Read my selections and then pick your own XI.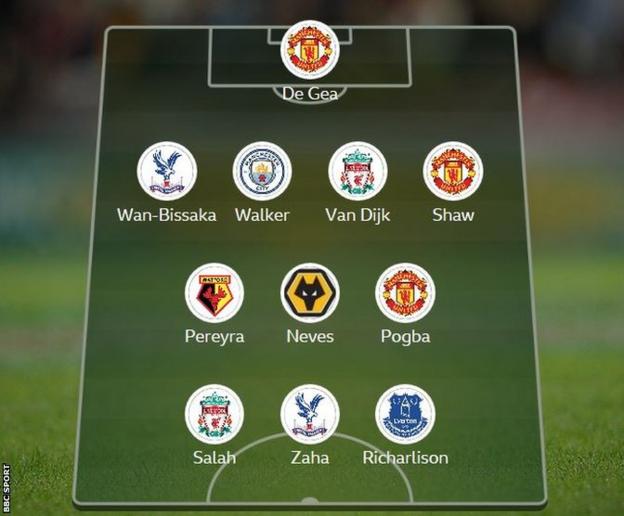 Goalkeeper - David de Gea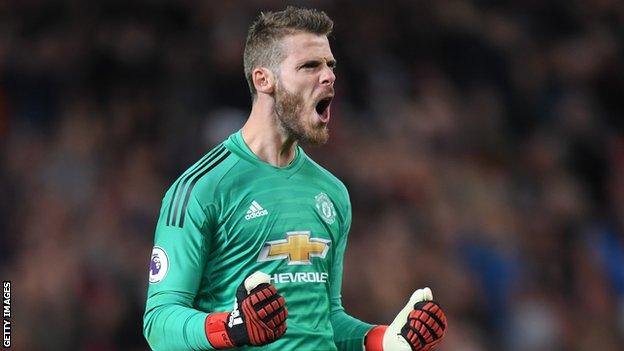 Just when you think you're starting to see the cracks appear in a footballer, De Gea produces a top-class performance in the opening game of the season.
I thought that, for a player of his calibre, he had a shocking World Cup for Spain and that his mental capacity to cope with the big occasion was beginning to wane. Not against Leicester City it wasn't. Two world-class saves nailed the game for Manchester United.
Did you know? De Gea made three saves in Manchester United's 2-1 opening day victory over Leicester City.
Defenders - Aaron Wan-Bissaka, Kyle Walker, Virgil van Dijk, Luke Shaw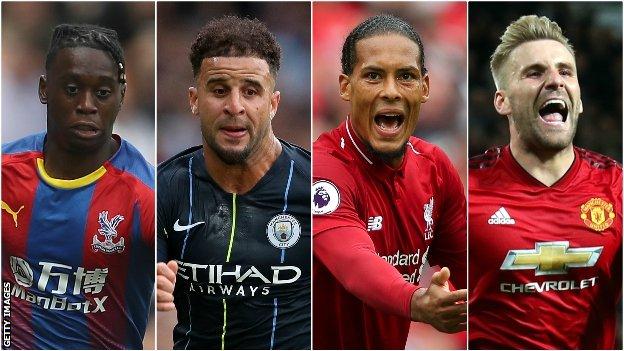 Aaron Wan-Bissaka: Crystal Palace manager Roy Hodgson said he was "more than happy to give Wan-Bissaka a pat on the back" when asked about the performance of the full-back against Fulham.
I suggest the Palace boss gives the defender an extended contract and quick - this lad can play.
This was an impressive performance by the 20-year-old. Wan-Bissaka saw off Ryan Sessegnon, Andre Schurrle and Aboubakar Kamara without breaking sweat. He then outmuscled Aleksandar Mitrovic (of all people) in a 50-50 before putting the ball on a plate for Wilfried Zaha to finish.
And Hodgson offers the player a pat on the back! Palace have found a diamond and if I were them, I would ensure his long-term future at Selhurst Park was secured very quickly.
Did you know? Wan-Bissaka provided an assist for Wilfried Zaha's goal as well as helping Palace keep a clean sheet.
Kyle Walker: Walker is looking such a good player at the moment. He had an excellent World Cup - where he played in a back three for England after Arsene Wenger appeared to suggest he couldn't.
The Manchester City defender returns home and then starts the opening game of the season for arguably the most demanding coach in the Premier League. He played the entire 90 minutes in a back four away at Arsenal and looked the best defender on the pitch.
Even with half a team rested, City made beating Arsenal look as if it was a walk in the park. At the moment Arsenal look like they are going to struggle to finish in the top six, never mind the top four.
Did you know? Walker made 23 sprints against Arsenal - the most of any defender on matchday one in the Premier League.
Vigil van Dijk: Liverpool's game against West Ham was no longer a contest after 55 minutes. The home side were 3-0 up and their forwards had the Hammers by the throat. Meanwhile Van Dijk was telling his fellow defenders, in no uncertain terms, that nothing short of a clean sheet would do.
That's the difference between Liverpool prior to Van Dijk's arrival and the team that currently exists. Moreover there's something of the Alan Hansen about the way he conducts himself on a football pitch. Apart from the obvious stature, the Dutchman always looks composed, elegant and plays with his head not just his heart.
Did you know? Van Dijk completed 60 of his 61 passes (98.4%) in Liverpool's thumping 4-0 win over West Ham.
Luke Shaw: Well, Manchester United are full of surprises aren't they? I didn't expect to see them start the season with such flair and expression.
I'm convinced Michael Carrick's elevation from player to first-team coach was the reason for that. I certainly didn't expect to see Shaw in their starting line-up.
I remember seeing Shaw a couple of seasons ago with United at Stamford Bridge, when he looked a nervous wreck. Against Leicester the full-back was fabulous.
It is too soon to be talking about England again - although that will change if he keeps playing like that. Good to have you back, kid.
Did you know? Shaw registered his first senior goal in his 134th appearance in all competitions (67 games each for Southampton and Man Utd).
Midfielders - Roberto Pereyra, Ruben Neves, Paul Pogba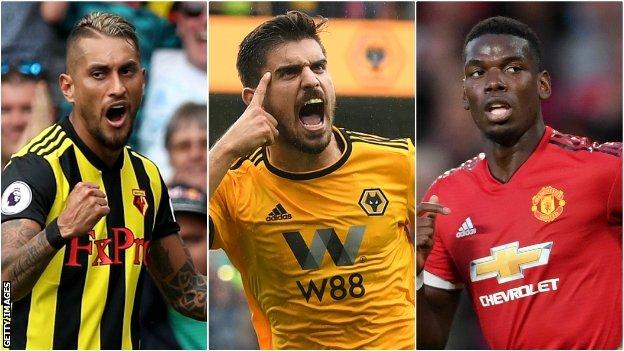 Roberto Pereyra: Chris Hughton maintained that Brighton had a good pre-season and were ready for Watford. But Watford, and more to the point Pereyra, sent that particular notion up in flames.
Brighton were awful and their manager told them so. Pereyra, on the other hand, scored two magnificent goals and made the Hornets look like a team capable of turning their fourth consecutive season in the Premier League into a successful one.
Did you know? Pereyra has had a hand in each of Watford's past six Premier League goals, scoring five and assisting one.
Ruben Neves: I don't think I've ever seen Molineux look as excited at the prospect of top-flight football as it was in the minutes prior to Wolverhampton Wanderers' opening Premier League fixture against Everton.
The place was jumping, probably in anticipation of Neves' performance. The Portugal international didn't disappoint either. He was sensational, and at the tender age of 21 he has the world at his feet.
Needless to say, if he can keep Wolves up, then Barcelona or Real Madrid are bound to come knocking. Not even the most ardent Wolves fan could expect the player to remain in the West Midlands if that was the case.
Did you know? Since the start of last season, Neves has scored more goals from outside the box than any other player in the top four tiers of English league football (seven).
Paul Pogba: Jose Mourinho made Pogba his captain for Manchester United's opening game of the season, and that is probably the only acknowledgement France's World Cup winner is going to get from his manager.
The player responded with a masterful display against a gallant Leicester City. However, Mourinho is wise to be cautious. The two stars meticulously etched in Pogba's haircut (and you know how I hate his haircuts) signify France's World Cup successes and suggest his ego is very much alive and kicking post-Russia.
Read more about what I think of the Pogba-Mourinho relationship in 'The Crooks of the Matter' below.
Did you know? Pogba's goal inside three minutes against Leicester was United's quickest at the start of a Premier League season - the previous fastest was from Dwight Yorke after seven minutes at Everton on the opening weekend in 1999-2000.
Forwards - Mohamed Salah, Wilfried Zaha, Richarlison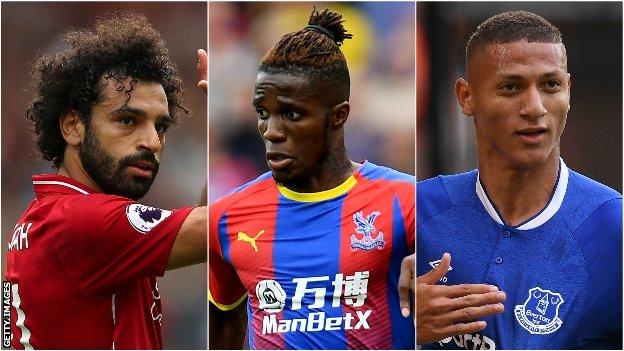 Mohamed Salah: So normal service is resumed. Salah is running riot at Anfield again. It was Salah who led the charge and blasted West Ham off the park during the first half.
I adore the way Liverpool are playing right now. They take the game to the opposition with such breathtaking speed.
There is no sideways nonsense, waiting for sophisticated openings with midfield players doing pirouettes and starving strikers of vital service. Liverpool go straight for the jugular and if you survive the savagery, so be it. Wonderful stuff.
Did you know? Salah has been directly involved in five goals in his three Premier League meetings with West Ham for Liverpool (four goals, one assist).
Wilfried Zaha: For the best part of Crystal Palace's victory over Fulham, it was men versus boys. Palace should have put the game to bed well before Zaha issued the Cottagers their last rites.
This was not the best performance I've seen from Zaha but he did all the things I've yet to see from Ryan Sessegnon. I've heard great things about the Fulham starlet but I'm still waiting for him get me on the edge of my seat.
Sessegnon may be quick but Fulham need the youngster to come of age very quickly. Zaha is the man of the moment at Palace while Sessegnon still looks like a very young boy.
Did you know? Zaha's strike was his 23rd in the Premier League for Crystal Palace. No player has scored more for the club in the competition - he is level with Chris Armstrong.
Richarlison: We saw this lad tear teams apart when he was playing for Watford. Now he's playing for Everton and he looks like he's found the scoring touch that was so often missing when playing for the Hornets.
This was an impressive debut for Richarlison, and if the referee hadn't got over-excited, Everton would have won their fixture against Wolves.
I said in this column last season that Premier League referees were becoming unpopular due to their over officiousness. If you want to know why Premier League referees were not invited by Fifa to the World Cup, then evidence is provided by the decision by Craig Pawson to send off Phil Jagielka, for what was at best a bookable offence.
Premier League referees have been far too reliant on the letter of the law and not prepared to exercise a little latitude.
More decisions like this and they can kiss goodbye to the European Championships as well.
Did you know? Richarlison found the net with his first two shots in the Premier League for Everton, having failed to score with any of his previous 53 efforts as a Watford player.
The Crooks of the matter...
Well, here we go again. Another nine months of blood sweat and undoubted tears for all of us who love the game. By the way, what a fabulous World Cup. I haven't seen games like that since 1982. After my condemnation of the infamous VAR during its ill-fated debut in the FA Cup last season, I have to admit the system worked in Russia.
Notwithstanding all of that, nothing prepared me for the performances of Paul Pogba.
Even Jose Mourinho had to acknowledge Pogba's enormous success when he remarked: "I hope he remembers what made him so good."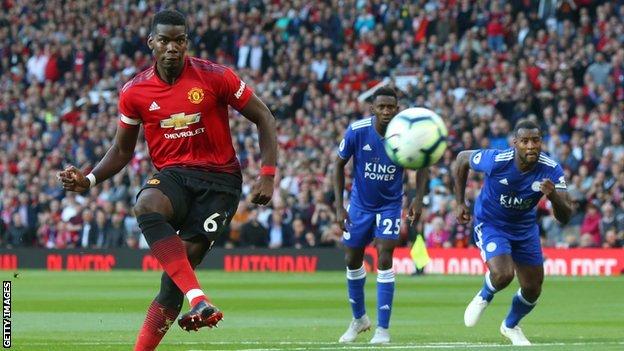 This was Mourinho at his best, of course. He recognised Pogba's achievements while lacing the comment with strychnine! The veiled threat suggested that if the World Cup winner doesn't perform for him in the way he did for Didier Deschamps, he could once again find himself sitting on the Manchester United bench - or on his way.
However, the universal approval of Pogba's performance in the World Cup spoke volumes about his discipline and selflessness for the cause. The player even dispensed with the grandiose hairstyles in order to minimise the attention on himself and place the emphasis on the team.
Pogba is no Glenn Hoddle - or Paul Gascoigne, for that matter - but he is a Martin Peters.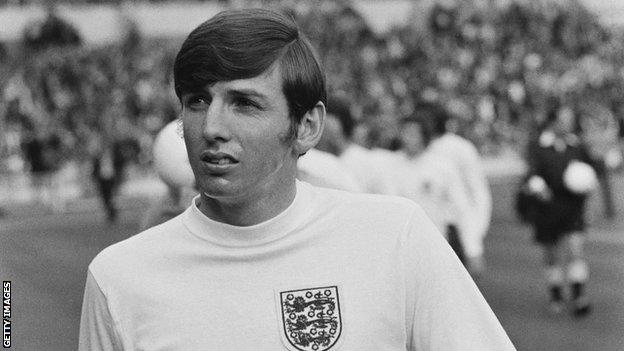 All three players played for their country but only Peters won a World Cup. I really hope Pogba can shove Mourinho's hollow accolade down his throat and become the United legend he craves to be.
What the Frenchman delivered in Russia was magnificent. The question is, can he deliver the Premier League title for Mourinho at United? Only that will grant him legendary status at Old Trafford.