James Brent: Plymouth Argyle chairman to step down from role after seven years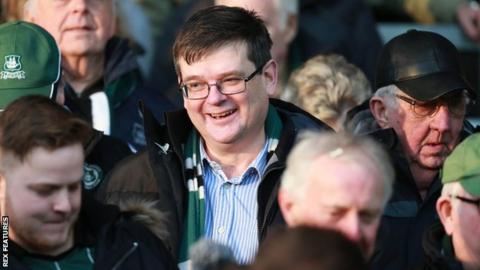 Plymouth Argyle chairman James Brent is to step down from the role.
He will remain as a director when his time as chairman ends on 31 October, exactly seven years since he took over the club when it was in administration.
Former director and ex-Waitrose managing director David Felwick has returned to the club's board and will become the Argyle's new chairman.
US-based director Simon Hallett has bought shares from Brent to take over as the club's majority shareholder.
"It has been an incredible privilege to lead Argyle's board as custodians of our club over the last seven years. It's now time for the next exciting chapter to begin," said Brent in a statement.
"I'd like to thank Simon and [his wife] Jane for their considerable financial commitment, which unlocks huge opportunities for the club and wider community."
The deal also sees the Pilgrims enter a conditional contract to buy land adjacent to Home Park which is not needed for a planned new ice arena.
Hallett, who has invested another £3.25m in Argyle to cover increased costs to rebuild the aged Mayflower Stand now owns 64% of the club, while Brent retains a 30% stake.
Lifelong Argyle supporter Hallett, who is chief investment officer of a US-based global investment management firm, and his wife Jane gave the club £4.1m towards their new grandstand last January having invested a 'substantial amount' in the club when he joined the board in April 2016.
"I'd like to thank James Brent for all his hard work and excellent leadership," Hallett said.
"Plymouth Argyle is a club I am passionate about and believe can deliver much success in the future. This investment puts the club in a strong position to continue to move forward.
"I am delighted for the board to appoint a chairman of David Felwick's calibre. I look forward to seeing the next stage of the club's development."
Brent gave Plymouth 'pride back' in Argyle
Brent stepped in to take over the club seven months after Argyle went into administration in March 2011.
Having funded their survival in the EFL in 2012, the Pilgrims gradually recovered both on and off the field, leading to promotion to League One in 2017 after six seasons in the fourth tier.
Chris Webb was a key figure in bringing Brent to the club and the lifelong supporter was named club president by Brent after his takeover was confirmed.
"James is one of the most important figures in the club's history," Webb told BBC Sport. "He gave the city and the region its pride back in its football club.
"He displayed a huge amount of bravery to go to the administrators and save Argyle.
"Everyone at the club should be hugely thankful that James Brent found Argyle and we should be hugely thankful that Argyle found him."
James Brent's time at Argyle
4 March 2011 - Argyle go into administration
28 September 2011 - Brent agrees takeover deal
28 October 2011 - Completes Argyle takeover
16 March 2013 - Unveils plans for redeveloping Home Park
14 May 2015 - Argyle lose League Two play-off semi-final to Wycombe - manager John Sheridan steps down soon after
11 June 2015 - Appoints Derek Adams as new Argyle boss
15 April 2016 - USA-based fan Simon Hallett joins as a director and invests a 'substantial sum' in the club
30 May 2016 - Argyle lose League Two play-off final to AFC Wimbledon
5 January 2017 - Hallett gives £4.1m to project to build new stand at Home Park
17 April 2017 - Gained promotion to League One after 6-1 win over Newport - finished the season second
June 2018 - Work on new Home Park grandstand gets under way
14 August 2018 - James Brent steps down
Brent inherited Carl Fletcher as his first manager, but sacked him on New Year's Day 2013 with the club just two points above the League Two relegation zone.
He replaced him with John Sheridan, who led the club to the play-off semi-finals in 2015 before resigning.
After appointing Derek Adams at the helm, Brent explained to the BBC how he adapted the recruitment methods from his other businesses to suit football.
It was a decision that has so far paid off - Adams took the club to the 2016 League Two play-off final before being promoted the following season.
Last term they went from the bottom of League One in December to challenging for a top-six spot before finishing one place and three points off the play-offs.